---
Vancouver's Affordability Crisis is No Laughing Matter
It's hard to find budget-friendly space in the city, to live or make art. For this comedy venue, it's begun to look impossible.
Photo by Sun Woo Baik
A crowd gathers outside Little Mountain Gallery before a show.
Every Thursday night for nearly 10 years, Ross Dauk has walked to the corner of 26th and Main Street in Vancouver, BC, and set out a sandwich board that reads "Jokes Please." The sign has a big white arrow pointing toward Little Mountain Gallery — a nonprofit comedy venue you might miss if not for the sign.
Little Mountain Gallery (LMG) is housed in a former auto shop, now painted bright orange, and tucked on a side street that quickly turns into residential housing. This Thursday, like most, there's a line of people waiting to get in. Those in the lineup may be here to laugh, but there's an issue casting a shadow on the stage. The building has been approved for redevelopment, and the landlord is evicting the performers to make way for apartments. After tonight, there are only a few weeks left for Dauk and others to put on shows in the tiny but cherished community arts space.
"I love Little Mountain Gallery, and I love Jokes Please, and I love standup comedy in general," says Dauk. This has been what he describes as his "home comedy club" for the past decade. It's been a place where he and other comedians can take risks, build their own audiences, and develop their art.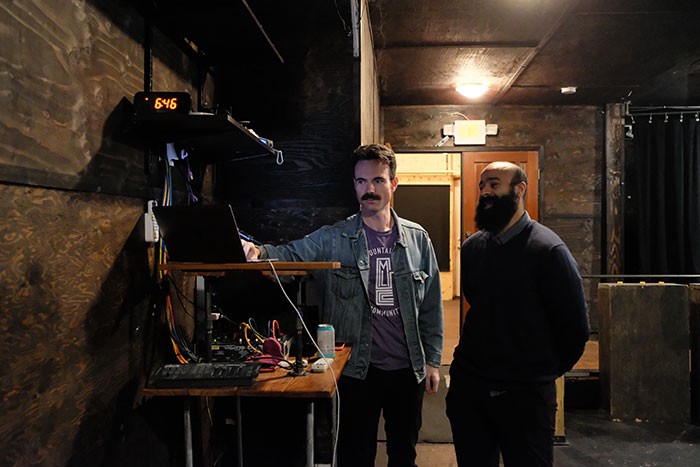 Fellow comedians and best friends Abdul Aziz, 32, and Brent Constantine, 36 — who both play key roles at LMG — have been working hard to find an affordable new space for the comedy club. After two years of searching, they're still empty-handed.
It's possible, they say, that the organization will fold if they don't find a new space. "We're really worried that if LMG doesn't exist, if there isn't a hub for comedians, we'll see a deterioration of the art form in the city quite quickly," says Aziz, LMG's operations executive.
The urgency to save LMG comes at a moment when comedians are still feeling the impacts of Covid-19 restrictions, and several comedy venues in Vancouver have closed. In April 2019, the Comedy Mix, a major venue, closed its doors. Then it was the local Yuk Yuk's, and most recently the Kino Cafe, a bar that frequently hosted comedy shows. "This is the last permanent comedy venue in the city," says Aziz. There are other spaces that focus on improv, but for standup comedy this is it.
LMG closing for good would mean that standup comedy would exist primarily in bars, explains Dauk. "Regular patrons are going to be there, not for comedy, just there at a bar. And obviously those venues can be great, but it's just a different thing."
Lack of arts spaces
As a nonprofit, LMG's mandate is to provide a financially accessible space for comedy to happen — whether it's classes for amateurs, or professionals performing live. Comedians can rent out and host a show in the space for C$150 (about US$120), and admission price is capped at C$15 (about US$12). Any money from ticket sales and the bar goes straight to the comedians. Ultimately, the goal is to create an appetite for the artform, while giving comedians a way to sustainably earn money from their work.
Rent on their current space, which seats up to 90 people, is quite low at only C$2,300 (about US$1,800) per month. But the market has become pricier, and a new space will cost them at least double, Aziz says. And they will need to renovate and get new permits if they are to create a sustainable live comedy venue.
There's a serious lack of available arts space in Vancouver, explains Alix Sales, head of cultural infrastructure for the City of Vancouver. "It's just like the housing affordability crisis," says Sales. "It's a huge challenge."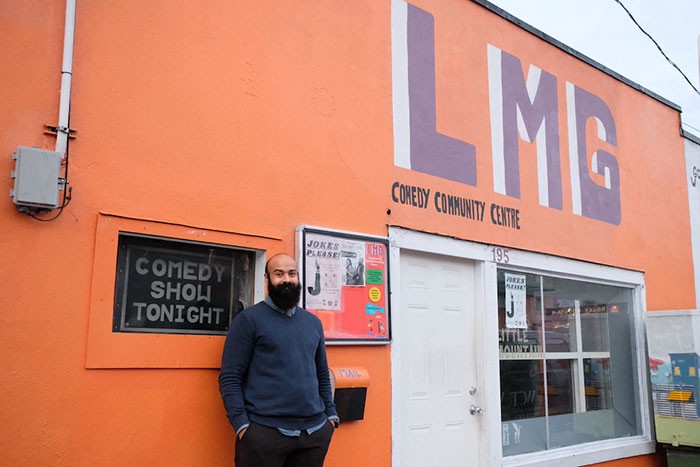 The perceived crisis of affordable arts space is backed up by data. In a one-year period, 16 studios in industrial spaces, accommodating approximately 300 artists, either closed or were at risk of closing due to increasing property taxes, rental costs, and development pressures. A report by the nonprofit Eastside Arts Society found that about 37,000 square metres of artist studio space had been lost in a 10-year period. It also describes how landlords welcome artist tenants in their old and poorly maintained buildings, and then evict them as soon as developers express interest.
"Most arts groups are in old buildings because they're affordable," explains Sales. "You always have gentrification within cities, and in Vancouver it's astronomical." LMG is a textbook example. The venue has been on a month-to-month lease for about 20 years. When it registered as a nonprofit five years ago, the comedians renovated the former auto shop themselves, insulating the space and adding a stage and bar.
"Everyone's put a lot of themselves into it," says Aziz. On any given night you can find award-winning comedians, folks who have Netflix specials, Juno awards, regular sets on CBC shows, and more. "If this space goes away, comedy in this city will take a real hit," says Aziz.
Competing priorities
Housing affordability is arguably the most pressing issue in Vancouver, and the city has implemented myriad policies to try to address it. But, much like with housing, the cost of commercial and industrial real estate has skyrocketed here. Many of the city's independent arts and culture hubs operate out of commercial and industrial spaces, and are vulnerable to rapidly increasing land values and redevelopment. "It's an affordability crisis for arts and culture," says Sales.
After the comedians are out, the LMG building will be knocked down and a four-storey mixed-use building will go up in its stead. Within that building there will be 10 secured market-rate rental apartments. "There's competing priorities," says Constantine, LMG's executive director. "We all want more housing, we all want to make safe cultural spaces. So when the two come into conflict, I mean, what is the ultimate good there?"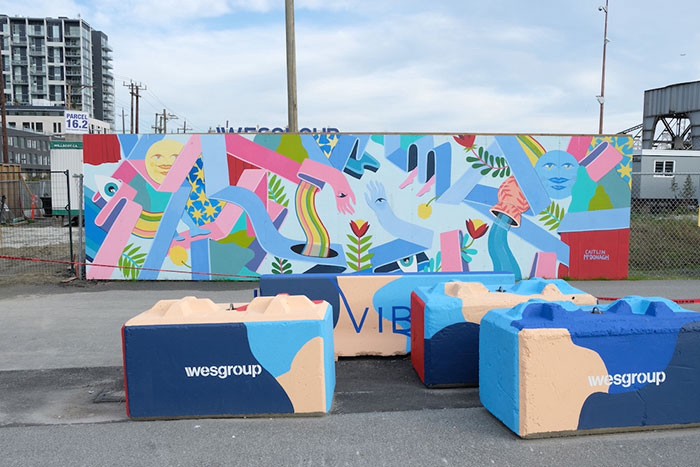 Aziz and Constantine point to Hot Art Wet City, a former art gallery and comedy venue about 20 blocks north of LMG on Main Street. The venue was evicted to make way for condos. When it was announced in 2017, the building proposed for the location was branded Main Street Arts, in tribute to the Vancouver Mural Festival that originated in the neighbourhood.
The mural festival itself has been a lightning rod for debate. Critics denounce festival organizers for accepting funding from major condo developers, only to pay artists to make neighbourhoods more appealing to wealthier people. But supporters of the festival say artists should have well-paid opportunities to showcase their work, and argue that developers play an important role in increasing the city's housing supply.
"I don't know what's good and what's bad," says Aziz. "I do know how it feels to have a developer come in and use the cultural foundation that you've built over 20 years of doing your art, to then be like, 'Yeah, let's use this coolness to give me more money.' That feels really bad."
Aziz and Constantine are open to talking with developers or anyone else who might have a lead on a new space. They've met with local and provincial government officials, developers, and other arts organizations. Constantine, who was the driving force behind turning LMG into a nonprofit, even did a master's in urban planning motivated, in part, by what was happening with the venue.
They've found a number of places that seemed promising, but between accessibility, zoning bylaws, code issues, and affordability, nothing has come to fruition. "If we find another space, it will be through grit and luck," Aziz says.
End of an era
The City of Vancouver currently has a 10-year plan for the arts. Its vision is to make space for arts and culture, prevent displacement, and support "affordable, accessible, secure spaces." The goal is to have no net loss of arts space. "We need to know when a development permit comes up and someone's going to be renovicted. And then we need to say 'Why and how do we fix it?'" says the City's Sales.
Her small team is working on planning and policy so these issues don't continue to come up in the future, but it's hard to support everyone who needs help now. "For groups losing their space, we do what we can, but we don't have a lot of time to work with them because we're working on long-term planning," says Sales. Among those long-term goals is making it easier for arts organizations to own their venues.
But, the team is still trying to help LMG. Sales recognizes that comedy is under-resourced in Vancouver and, all things considered, the size of space they need is quite small.
As part of LMG's efforts to keep their doors open, they received an C$11,000 grant (about US$8,700) from the city in 2019 to support space planning. They now have a 97-page document that outlines their exact needs. There's the dreamy "full-scale" version that's about 300 square metres, has two performance spaces and a licensed bar, allowing LMG to grow and meet the ever-increasing demand for affordable space for artists. Or there's the "modest" approach, which would have one performance space and require about 115 square metres. "We have a very good idea of what we need to be sustainable and exist for a long time," says Aziz.
Both comedians say they know more about zoning requirements and liquor licensing than they ever wanted to. "This feels like it shouldn't be us that is doing this, it should be someone else that has this responsibility," says Aziz.
"I inherited this as a curse," jokes Constantine, who took over running LMG six years ago. He and Aziz continue to volunteer their time to find a new space out of their love for comedy.
"It's tough to start a whole venue. And it's also very tough to start a show somewhere from scratch," Constantine says. "The work people have done to get people out to their shows week after week is something I feel responsible for. I don't want these people that have done all this work to lose what they've done."
---
Until the end of December, LMG will continue to be a place for comedians to run their shows. Their fundraising efforts include an eviction party, a GoFundMe, and limited edition t-shirts. "Give us money and give us a venue and we promise that we won't waste most of it," says Constantine.
Whether they find a new venue or not, the last shows in this comedy community centre are imminent. Aziz says he's hardly had time to consider how he'll feel when their time in that space is up. "[LMG] makes a tapestry of what comedy is in the city. And losing it … it'll feel like losing a part of that history."
Thinking about his last Jokes Please show at the venue, Dauk says he's rotating between nostalgia, gratitude and heartbreak. "I'm trying to enjoy every show to the maximum while also having to navigate that my life is about to be turned upside down."
Print Issue: Fall/Winter 2021
Print Title: Watch this Space
Related Stories
---
---