---
Fiction Tells the Truth: A Q&A with Hangama Amiri
In the wake of the Taliban takeover, an Afghan-Canadian artist reflects on family, migration, and identity.
Photo by Casey Kelbaugh
A collection of Hangama Amiri's smaller works on display as part of 2021's Wandering Amidst the Colors exhibit, at New York's albertz benda gallery.
After leaving Afghanistan as a refugee in 1996, textile artist Hangama Amiri migrated through numerous countries before arriving in Canada in 2005. Reflecting on those experiences, her identity, and her connections to family and the broader Afghan diaspora, she addresses themes of home, identity, belonging, women's rights, and global politics in her large-scale quilts.
She's had a busy 2021: gallery shows in Toronto and New York, and a commission from the United Nations High Commissioner for Refugees to design an emoji for World Refugee Day. Her newest show, Mirrors and Faces, runs at Toronto's Cooper Cole Gallery until November 6, 2021. It deals with similar themes, but focuses on feelings of isolation and betrayal — things she felt intensely during the Covid-19 pandemic. Amiri, 32, says these new pieces are more figurative and surreal than her previous work.
The weeks leading up to her show were shadowed by the recent Taliban takeover in Afghanistan. In light of this, Amiri has been working on new pieces. Our conversation began there. (This interview has been edited for length and clarity.)
---
Sun Woo Baik: What are you working on right now?
Hangama Amiri: Right now, I am starting on two textile artworks that will depict the current situation in Afghanistan. It's through my personal take, but it's also through my engagement with my family back home during the last week of August. That month was very heavy for everyone, especially for the diasporic communities of Afghans living abroad. I'm making two works that reflect those social and political shifts and how [they impact] Afghan youths and their future.
How have you navigated the recent Taliban takeover in Afghanistan, besides working on these new pieces?
My parents are in Canada, but my cousins, my aunts, they all live in Kabul city. I can feel close with the events with them, and [I'm] trying to ask them how they are doing, what are they up to, and what process their evacuation is [in]. Because a majority of them are still stuck there and they couldn't get a chance to fly on one of those international military planes.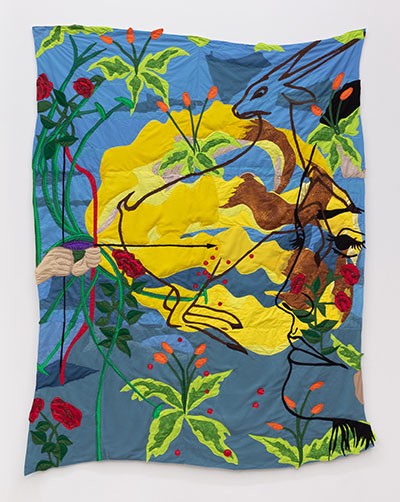 How has this experience changed the way you think about your work?
There's a certain pause that happened, and I said, "Let me take a moment here and process the grief, but not so much think about the work." At the same time, the works that I have made previous of this event [became] archival to me. There's that history of [the] past, but also what is present. I'm still grieving, I'm still trying to understand.
I'm trying to reflect [and] bring more contemporary voices [into] my textile pieces. I hope that having this little privilege as an Afghan artist, I could give some platform for those other unheard voices to be in my work. And especially, I'm hoping to reflect on ideas of education, since women are still banned from education — especially young girls. I feel like art [is] a way for people, even from diasporic communities, to understand what's going on. Art has that power of reflection. It has fiction, but the fiction tells the truth. And [right now] it's the best time for artists not to be silent, but be much more vocal.
You've talked about how working with other Afghan people informs your work. Why is working with the Afghan diaspora so important to you?
When I meet other Afghans who have lived here more than me, it becomes an educational platform to know more about their life in the western culture and the western societies.
But when I communicate with these people, it's also to bring their knowledge and their political views into my work. We have so many different intergenerational views. I'm a post-war generational person, so I've only known about the destruction of the Taliban regime in my country and what sort of impact they have done to my life and to many other Afghan women. My mom and dad have lived through those politics too, but they also lived through the civil war as well — so they might have different views on certain social or political things in Afghanistan.
Much of your work focuses on the representation of women. How do you go about representing women, and why?
If you consider the representation of Afghan women in the art context, it's very [little]. If they are, they have been misrepresented by whoever had the access to film or photograph them. I'm basically targeting the white viewer or the white male having access to go into the country and photograph and [represent] that "this is the Afghan woman." Like Steve McCurry's [famous] photo. Part of me envies, [and] I respect his medium, but there are things that, anthropologically, do not sound right to me. I want to create more of this sort of representation through my voice because I am an Afghan.
What themes do you want to tackle in your work, moving forward?
I will keep making work while being aware of what's going on back home, through a third[-person] point of view. I do not have any access anymore. I can consider myself an exiled artist, but I am also a diasporic body. I'm also interested in my own experience of what the diaspora means, and what sort of migration or immigration stories take place in my life.
My recent exhibition, which was a couple of months ago in New York, was [on] ideas around home. Once you live for such a long time away, home becomes about feeling. It becomes about memory, not a territorial thing, because we are so distanced from the physical context. For me right now, home is a huge question again in relation to my identity, because what happened in Afghanistan is like repetitive history.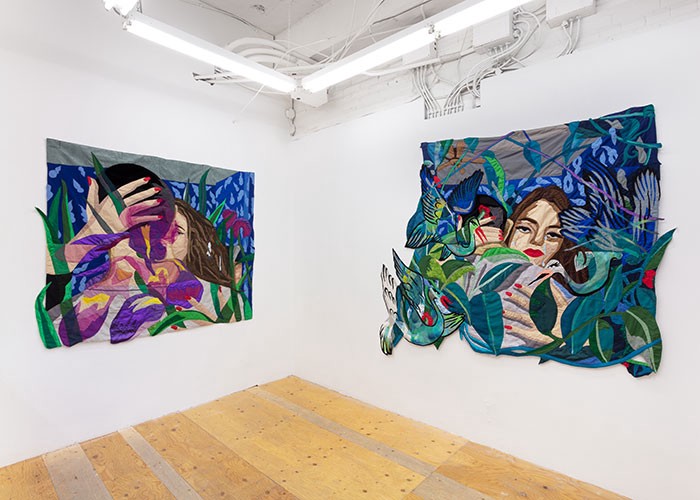 You have a new exhibit, Mirrors and Faces, at Cooper Cole Gallery in Toronto. Can you tell us about it?
This exhibition [was] actually completed before [the recent Taliban takeover], so I was thinking maybe it's not the right time to show any of this work, because [it] reflected my time during this pandemic life [with] very dreamy, very surrealist landscapes that involve my personal, everyday stories. I'm touching on feelings such as loneliness, isolation, love, intimacy, hope, and rage.
These are the feelings that not only me, but maybe [most] people, have experienced. I felt [it was] really important to consider, and [not] forget about this time in my life.
Print Issue: Fall/Winter 2021
Print Title: Fiction Tells the Truth
Related Stories
---
---