---
Covid-19 Could Kill a Key Climate Strategy
The pandemic threatens the Paris Agreement's system for rich countries to fund poorer ones' climate solutions.
Photo courtesy UNFCCC via Flickr / CC BY 2.0
Youth activists staged a "die-in" protest next to a sculpture of the Eiffel tower built out of folding chairs, at the entrance to 2015's climate conference in Paris.
"The well-being of a nation invariably and always depends on the well-being of all nations," German Chancellor Angela Merkel recently told 30 climate ministers gathering virtually to discuss a green economic recovery from the Covid-19 pandemic. "I think it is still our responsibility to implement the climate agreement of Paris," she said, "…to see to it there is adequate climate finance." Climate finance is not often discussed by the media or the general public, but it's an essential tool in the global community's efforts to lessen the effects of climate change, especially in poorer countries. Unfortunately, the pandemic threatens to put this tool into disuse.
The 2015 Paris Agreement — developed at the Paris Climate Conference, also known as the 21st Conference of the Parties, or COP21 — was a landmark climate accord that brought together 189 countries. Its goal was to hold "the increase in the global average temperature to well below 2°C above pre-industrial levels and pursue efforts to limit the temperature increase to 1.5°C." A vital element of the agreement is Article 9, which states that: "developed country Parties shall provide financial resources to assist developing country Parties" in implementing measures to mitigate and adapt to climate change.
"Climate finance" is this commitment of wealthy countries like the European Union and Japan to allocate US$100 billion annually by 2020 to support poor countries in regions like South Asia and Africa in fighting climate change.
University of British Columbia environmental policy professor Dr. George Hoberg says Article 9 creates an obligation for "countries that have already developed but also taken much of the carbon budget," to support "the need for faster-developing countries to constrain their carbon emission as they develop." I recently studied Article 9 under Hoberg as part of my Master of Public Policy and Global Affairs degree, as I sought to understand the costs of climate change, how we can cover them, and how to balance economic interests and the environment.
Hoberg elaborates: "Countries that are being asked to sacrifice the most have contributed the least to the problem. So large-scale transfer of money — to compensate for the difference and help with the transition — is incredibly important." How this transfer happens is that both governments and private entities contribute funds for project loans, lines of credit, and equity investments for climate-related projects in poorer countries, often through multilateral funds. The largest is the UN-founded Green Climate Fund (GCF), which operates in over 100 countries. GCF attracts private investments by using the public funds it has collected to mitigate some risk.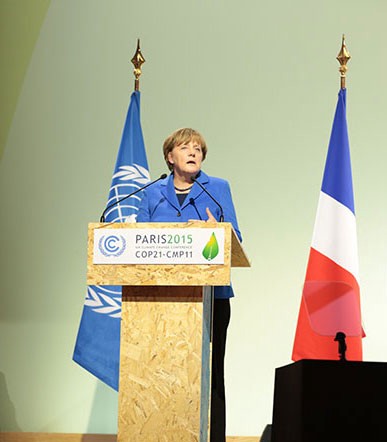 Article 9 is now under threat because neither it, nor the Paris accord as a whole, is legally binding. Parties to the agreement committed to climate plans known as Nationally Determined Contributions (NDCs), but those NDCs are non-binding. Before Covid-19, the Organization for Economic Cooperation and Development reported that the highest annual contribution under Article 9 so far was the US$71.2 billion paid in 2017. Results from more recent years have yet to be reported, but given the US' withdrawal from Paris — it had contributed significantly to Article 9 financing previously — and the unexpected pandemic spending, it seems unlikely rich countries will finally reach that goal in 2020. Merkel is surely right that governments will be tempted "to reduce climate protection to save money."
The G20 countries — which represent almost 90% of global GDP — have spent over US$9 trillion so far responding to the coronavirus crisis, according to the International Monetary Fund. Before the pandemic-induced spending spree, there was already resistance to the climate finance regime, as evidenced by Australia's announcement that it would stop contributing to the GCF. Now that the world's richest countries are uniformly running deficits, it's easy to imagine others following Australia's lead.
"The pandemic is blowing a fiscal hole in government budgets around the world," says Hoberg. "The health crisis, and the resulting economic crisis, will likely turn nations more inward for a considerable period, and that works against the… spirit that makes effective international cooperation possible."
---
Poor countries hope things turn out differently. The African Group of Negotiators on Climate Change have called on developed countries to "agree on a path forward to close the climate finance gap in 2020," because the countries they represent are vulnerable to climate change and least prepared to handle it. For example, temperatures in Africa's Sahel region are projected to undergo increases 1.5 times higher than the rest of the world's.
Chancellor Merkel's stance is encouraging, given her ruling coalition is running a deficit after years of balancing budgets. Germany has earmarked €4 billion for climate finance, doubling its commitment from 2014 levels. But that alone is not enough. Other G20 countries must include climate finance for poorer countries in their contribution to global recovery efforts. Their Covid-19 response is, after all, 90 times the Article 9 pledge — which makes it hard to argue they don't have the money.
So what do Article 9 funds pay for? Broadly, they're allocated to mitigation projects that aim to reduce greenhouse gas emissions — like developing solar electricity infrastructure — and adaptation projects that prepare existing infrastructure to withstand the effects of unavoidable climate change. One example is a project that plants sustainable argan orchards in Morocco, training and employing rural communities to produce argan oil while protecting the country's 2.5 million hectares of natural argan forest. If public climate finance halts or slows, approvals for projects like this will be delayed and potential private sector funds may move to other investments.
If wealthy countries choose not to care about climate inequality, there are plenty of self-interested reasons to adhere to their climate finance commitments. The consequences of unchecked climate change will include famine, unrest, and large-scale migration from poor countries, whose displaced citizens will inevitably land on rich countries' doorsteps. This has already been the case, with extreme drought precipitating civil war in Syria, and other climate impacts increasing migration from Central America, Northwest Africa, and South Asia. That's on top of the impacts climate change will undoubtedly have on those wealthy countries themselves.
And if the only argument that resonates with today's leaders is economic, it's worth noting that the Global Commission on Adaptation — a UN-sponsored organization mandated to support adaptation to climate change through technology, planning, and investment — has calculated that every dollar invested in adaptation today could result in $2-$10 in net economic gains by 2030. Surely those are the kinds of investments cash-strapped governments and corporations could use right now?
Wealthy countries need to view climate finance as an investment instead of a burden. A re-commitment to Article 9 would not only be an investment in the global climate and economic recovery, but insurance for the future. During the writing of this column, 2020's COP26 meeting in Glasgow was cancelled. Hoberg described the cancellation as "at least another year setback before more progress is made on implementing the agreement." He's probably right. But with the right attention, cooperation, and support from leaders like Angela Merkel, the climate finance regime could get back on track. A vaccine may help with the unprecedented Covid-19 crisis, but the only cure for the climate crisis is our commitment to this kind of collective action.
Print Issue: Summer/Fall 2020
Print Title: Covid-19 Could Kill the Heart of COP21
Related Stories
---
---