---
Environmental Stories Aim to Open Minds at 2020 PuSh Festival
High Water and What You Won't Do For Love make the climate crisis vivid through unconventional performances.
Photo by Ash Tanasiychuk
High Water (pictured) and What You Won't Do for Love tackle environmental subject matter in creative and non-didactic ways.
As water flows into an aquarium, a hand reaches down from above, trying to force a balloon into the rising tide. The balloon bursts, and water sputters over the glass walls — evoking heavy rain on a window. Over the course of 52 minutes, the hand drops more objects into the ever-filling aquarium: ping-pong balls, glass jars, pantyhose with rocks in the toes. Clad in a safari vest and hat, fluorescent-framed sunglasses, and impeccable red nail polish, the owner of the hand watches intently as the water reacts.
High Water, created and performed by multidisciplinary artist Robert Leveroos, is a playful and genre-bending performance that uses everyday items, rising water, and Leveroos himself to create miniature scenes and images — all within an aquarium intended for goldfish. Objects take on new meanings in the aquarium-turned-set, as Leveroos tinkers with them in the water. These new meanings are left for the audience to discover; Leveroos hopes they bring their curiosity to the theatre.
The show runs February 1–5, as part of Vancouver's PuSh International Performing Arts Festival. Now in its 16th year, the festival is known for presenting innovative works of contemporary performance. Its 2020 program includes 55 performances, talkbacks, and workshops, including two that highlight the environmental and climate crisis in unconventional ways: High Water and What You Won't Do for Love.
Part physics experiment and part puppetry, High Water uses the confines of the aquarium and the attributes of the objects to create imagery not possible with human actors. "I was just thinking about an aquarium being a really great space to work in, because it's like a natural stage, in that it can be lit very well from all sides. And it makes for a nice controlled environment that is good for puppetry," Leveroos explains. Within these parameters, High Water aims to create beauty and humour, while commenting on the climate crisis and our society's culture of disposability.
Leveroos also wants to draw audiences' attention to broader aspects of human behaviour. "At the heart of our investigation is… how humans are wonderfully inventive, and how that can also be shortsighted. In the pursuit of solutions that can be quick fixes, we don't necessarily see the ripple effects through other things," he comments. "There are a lot of… tongue-in-cheek moments where we're poking fun at humans and creating images that allude to certain things — like nationalism, and land ownership, and maybe things like human invention — that have led us to where we are."
Leveroos and his team — which includes co-creator and director Elysse Cheadle, and sound designer Nancy Tam (who performs the score live) — have worked on High Water for two years. During that time, "the conversation has really shifted globally," Leveroos says. "Some of our images which have been set for a couple years have picked up new connotations [from] current events, like [the wildfires] in Australia right now."
High Water is co-presented with the Vancouver International Children's Festival, and Leveroos says his favourite kind of audience contains all ages. "Young people see things in a very different way than older folks," he says. "I love adults being in a room with children, and I think they will find that kids will really give a clue into the kind of humour we're playing with. And I think the adults can help the children potentially appreciate the gravity of it."
Above all, Leveroos wants High Water to be for everyone. "It's nice to include everybody in the experience, and to realize that art doesn't have to be specific to any age range." He hopes audiences will participate in the curiosity and experimentation the performance brings to its subject matter.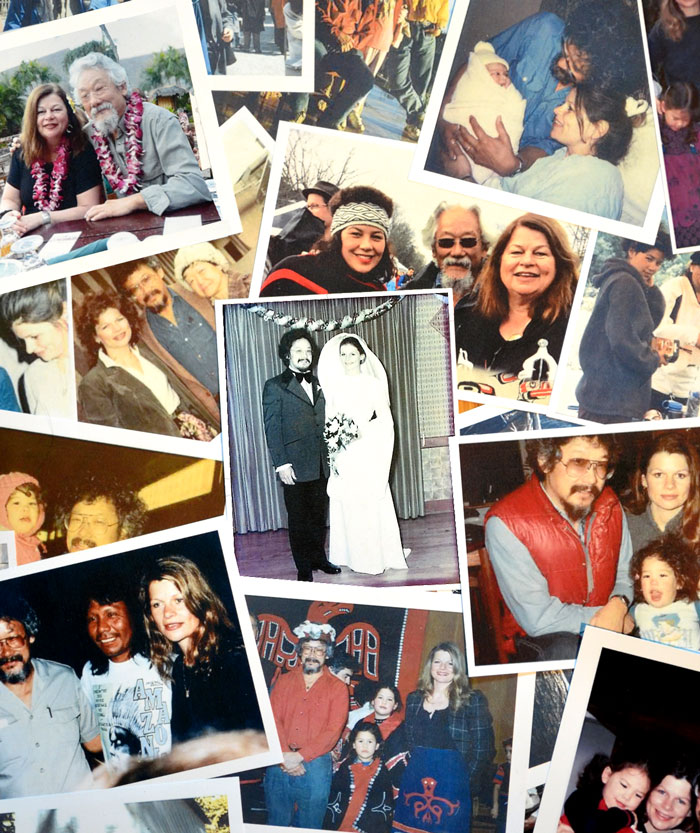 Like High Water, What You Won't Do For Love looks at climate issues in a creative and non- didactic way. Created by Toronto's Why Not Theatre, the piece consists of environmental advocates David Suzuki and Tara Cullis sharing stories about their activism and life together (they've been married 47 years). It's still in development, but a one-night-only workshop presentation for PuSh pass-holders will take place at New Westminster's Anvil Centre on February 4. The finished performance will have a run at next year's festival.
Why Not Theatre's artistic director Ravi Jain has created theatre with non-actors before. His 2012 work A Brimful of Asha featured himself and his mother, Asha, telling a family story as if the audience were a roomful of friends. Like What You Won't Do, Asha centred true stories of real people. "I grew up listening to my parents' and uncles' and aunties' stories," says Jain. "To me, that experience is at the heart of what theatre is. And there's so much to learn from everyday people."
Jain's storytellers this time around, Suzuki and Cullis, are best known for their activism in Canada and abroad. In opening up a conversation with the two about their love for the environment, their family, and each other, the piece aims to connect the dots between the personal and the environmental.
"I first wanted to do a play with David Suzuki because I felt like I was concerned about the planet and wondering what I was doing to contribute to this crisis," Jain explained in an email. He initially approached Suzuki about another project, and when they met they ended up speaking a lot about Cullis. "He also joked, 'you know you better hurry up with this play because I'm gonna die soon,'" Jain recalls. "I said why don't we do this with your wife because she's so important to you and you want to spend time with her."
Jain describes the creation process as emotional and collaborative. "Ultimately, we sit around a table and we tell stories and we laugh really hard, and at times we get really sad," he says.
Through Suzuki and Cullis' stories, Jain hopes to draw attention to the importance of storytelling in the time of the climate crisis. "We're overwhelmed by the magnitude of this massive problem we've created for ourselves, and we don't know what to do," he says. "I think we need guidance and stories from an elder or elders. That has been the root of theatre and our lives as humans; that's how we grow and learn. And coming back to that tradition and ever-important form can hopefully give us a path to navigate this very scary terrain."
What You Won't Do holds up Suzuki and Cullis as extraordinary humans and environmental activists, while highlighting that environmentalism is for anyone and everyone. Jain thinks it's important that audiences see Cullis and Suzuki as ordinary people, not environmental saviors. "They never set out to be climate activists. Neither of them wanted to do this job. They just fell in love with each other and — in connection with each other — …the planet and the nature they wanted to preserve for their family and their grandkids."
"If we all just change our thinking," says Jain, "we can see that we have the potential to also become superheroes."
The PuSh International Performing Arts Festival runs from January 21 to February 9, 2020. High Water runs February 1–5 at The Nest, on Vancouver's Granville Island. What You Won't Do For Love is on February 4 at The Anvil Centre in New Westminster.
Related Stories
---
---