---
Food Desert Residents find Relief at Mobile Markets
Grocers on wheels are bringing fresh food to the North American city-dwellers who need it most.
Photo by Laura Berman/GreenFuse Photography
A converted bus operating as a mobile Good Food Market caters to shoppers on the campus of Toronto's Ryerson University.
I recently got into an awkward situation while grocery shopping, and found myself trying to arm wrestle a friend for the last available red onion. I'm not usually a veggie-wrestler, but we were both excited: it was my friend's first time shopping at a mobile market, and I was thrilled there was a new one in an area that sorely needed it.
I consoled myself with strawberries, pineapple, avocado, ginger, rhubarb, a gorgeous English cucumber, and a pleasingly low grocery bill of C$10.15, while my friend clutched a C$1 loaf of artisanal bread, a bag of organic salad greens, a bunch of celery, and my red onion.
The MarketMobile where we were shopping sets up in the Ottawa neighbourhood of Vanier every other week, and has a regular schedule touring the food deserts of Canada's capital. As grocery stores abandon downtowns for suburbs — and those suburbs are themselves transformed from car-owning, middle-class enclaves to the homes of recent immigrants dependent on public transit — food deserts are proliferating throughout North America.
There are many definitions of food desert, but most emphasize distance from grocery stores where fresh fruits and vegetables are available. One definition is an area where residents live more than a 1 km walk from a grocery store; at least 31,000 Toronto households are in such locations. Urbanist Richard Florida wrote in 2010:
These neighbourhoods are often… characterized by low average household incomes. If policy makers wish to improve the health, productivity and general prosperity of communities within their jurisdictions, addressing the existence of food deserts is an important first step forward.
---
Mobile markets that visit food deserts at regularly scheduled times are cropping up in North American cities, aiming to transform those deserts into oases where residents have ready access to healthy, reasonably priced, and culturally appropriate food. They consist of buses — or trailers towed by vans — converted to display food on shelves or in bins. Some require shoppers to enter the bus or trailer, while others feature customized shelving that folds out of the side wall for an alfresco shopping experience.
Oakland, CA, pioneered the first North American mobile market in 2003, and the concept has spread throughout the US as a response to grocery store closures in low-income neighbourhoods. Some of the American markets further support low-income shoppers by participating in the SNAP program (formerly known as food stamps). In Canada, mobile markets have been slower to take off, though beyond Ottawa there are currently examples in six other cities, from Halifax to Vancouver. The most well-established are in Ontario — but even here, awareness remains low outside the neighbourhoods they serve.
---
In Toronto, local non-profit FoodShare began a Good Food Markets pilot program in 2012, and by 2013 was operating six mobile food markets. By 2017, they were supporting 45 markets, and delivered more than 250,000 pounds of fresh fruit and vegetables to food deserts throughout the Greater Toronto Area. FoodShare claims that 79% of its customers attend each and every Good Food Market in their community.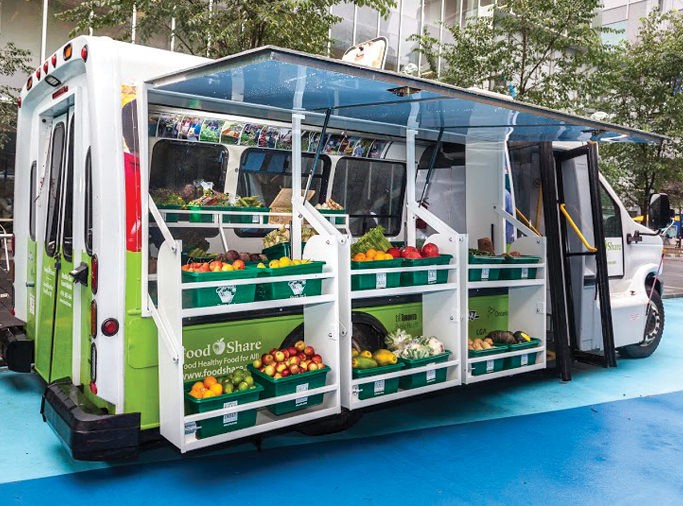 Following a successful 14-week pilot program in 2014, Ottawa's MarketMobile used a grant from the Ottawa Community Foundation's New Leaf Challenge to buy its own truck and trailer. It originally operated out of a borrowed local bus; market organizers had to remove all the seats, and install and stock their own shelving prior to every market, adding several hours to the process.
The road to trailer ownership was bumpy. The organization was awaiting delivery when they learned the trailer would be delayed: the Wisconsin factory's Amish workforce commuted by bike, and had missed several days' work due to freak snowstorms. Then, just as the trailer was ready, the company noticed an axle problem. At that point MarketMobile cancelled its order and sourced a truck and trailer from a local supplier.
"Ottawa Community Housing was actually kind enough to donate the person-hours to build the inside of the trailer," says MarketMobile Project Officer Shannon Szkurhan. "The shelving and flooring and our cash table… is all a donation from Ottawa Community Housing."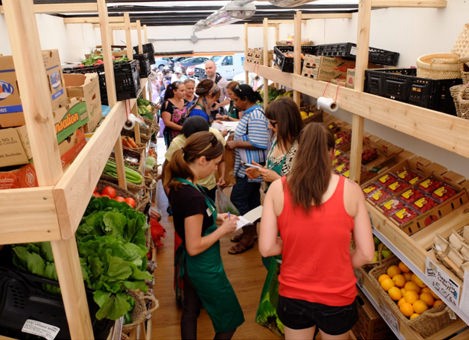 Produce — bought wholesale from a Loblaws supermarket and a non-profit social enterprise called the Food Hub — is marked up only 20–25% (compared with the 50–100% grocery stores mark up perishable goods to compensate for spoilage). Over four years of operation, MarketMobile has added non-perishable items, including oatmeal, dried pulses, and, this year, coffee from local Poppa Bean Coffee Roastery. At July's inaugural Vanier MarketMobile, coffee beans sold for $5 per half pound. That week, the same quantity retailed at Ottawa's Whole Foods for $8.
Szkurhan explains that grant funding can be capricious: "The first two years, [the New Leaf Challenge grant] was focused on food security projects, and then in the last two years, I believe it's been focused on youth employment." Happily, MarketMobile has become a permanent program of the Rideau Rockcliffe Community Resource Centre. That means staff salaries — a full time coordinator and two part-time drivers — are covered by the centre.
"We are marking up our produce a little bit and we have coffee that we sell on the trailer as a for-profit item as well," says Szkurhan, explaining that funds generated from food and coffee profits pay for gas, insurance and supplies. "So we're in a unique position… we're sustainable." MarketMobiles now serve 10 different Ottawa locations year-round.
---
Modelled on the successful programs in Toronto and Ottawa, Halifax began its own Mobile Food Market pilot program in 2016, and is now operating at 12 locations in seven communities. Montreal also launched a mobile market in 2016, while Calgary began a pilot program in May 2018. In Edmonton, a local entrepreneur has launched a mobile farmers' market that travels to seniors' homes.
The Vancouver Food Bank's Curbside Fresh Market received a financial boost from Whole Foods for its fifth season this year. BC has also approached access to fresh fruit and vegetables from a different angle. Starting in 2007, the BC government introduced the Farmers' Market Nutrition Coupon Program, making coupons available to individuals and families enrolled in nutrition and skills-building programs. Participants receive $21 worth of coupons per week, 16 weeks a year. The coupons can be used at any of 57 participating farmers' markets.
Asked about the coupon program, Szkurhan says, "Well, I think it's good in that it's giving people choice and access to fresh local food." But one of her concerns is the cost at farmers' markets: "The capital economy is broken. You know that it's cheaper to get red peppers from Mexico than it is to get a red pepper that's grown from down the street."
This is the compromise mobile food markets have had to make: while they stock some organic and local produce, the prohibitive price of organic food and the short Canadian growing season make it challenging for them to apply "buy local, buy organic" policies.
Do consumers care? Judging from the enthusiastic response to the MarketMobile opening in Vanier, probably not. In 2014, Ottawa Public Health estimated that 1 in 10 local households didn't have easy access to healthy food. That number was down to 1 in 15 in 2016. Slowly but surely, mobile markets are making a difference, transforming food deserts into oases.
Related Stories
---
---