---
Why the Downtown Eastside is Buzzing
Hives for Humanity is bringing bees—and community—to Vancouver's most disadvantaged neighbourhood.
Photo courtesy Hives for Humanity
Vancouver's Downtown Eastside seems like an unlikely place for anything green to thrive. Boarded-up storefronts line the crowded streets, where people camped in doorways try to protect themselves against the dampness and disorder. Yet for the past eight years, a Vancouver-based non-profit organization has built an inventive program to bring new life to this urban district, long considered one of Canada's poorest postal codes. And it all started with bees.
Sarah Common and her mother Julia launched Hives for Humanity in 2012 to offer new opportunities to traditionally marginalized people in the Downtown Eastside (DTES). Their idea? Train local residents to work with bees.
"We're trying to connect to people through nature, by working the land together," explains Sarah Common, who was a community worker in the DTES at the time.
She had been volunteering in a DTES urban garden, when she began offering beekeeping instruction to local residents with her mother — a beekeeper — in 2012. The interest they received from the community inspired them to create an organization to expand this beekeeping training and build flower-filled gardens where bees could thrive.
Today, Hives manages over two dozen green spaces, including apiaries and "pollinator gardens" with flowers that nourish bees, at different locations throughout the region, including supportive housing sites, parks, and community centres. They have also launched a business that sells bee-based products, including producing and selling honey and beeswax candles, to help fund Hives.
By providing green space, a scarce resource in the disadvantaged district, along with opportunities for residents to learn new skills, Hives for Humanity has helped build a flourishing community of beekeepers and gardeners amid the challenges of poverty, homelessness, and drug addiction.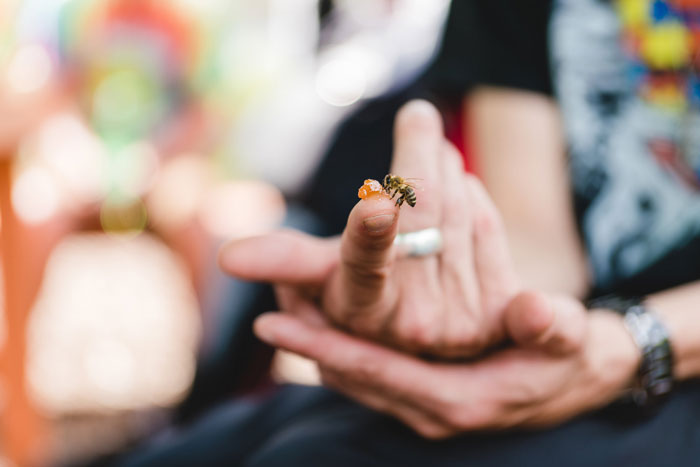 Learning to work with bees wasn't easy, says Horace, a long-time Hives community member who asked to be identified only by his first name. "I'm still afraid a little bit," he laughs.
But the organization has helped him learn new skills, from beekeeping to candle-making, and he now appreciates many of the bees' unique traits. He says, "The best time to see the bees is when they're getting born. It's amazing. They fly right away and go to work. They don't mess around!"
Perhaps more importantly, Horace, who grew up in Alberta, says that working with Hives for Humanity has kept him out of trouble — and out of jail. "I was in trouble all the time," he recounts, "but all the time since I've been involved in this, I've been doing so good."
Hives' 2019 annual report describes their programming as "no-barrier," meaning that people can join activities directly from the street. Although Hives has had to scale back its programs this past year due to the pandemic, in 2019, they offered 99 community beekeeping and related workshops serving more than 1,400 participants.
"We aren't connected to where our food comes from, what it takes to plant a seed, to grow and care for that seed, to see that seed become a plant and flower and feed the bees," says Common.
Ali, another member of the Hives community who also asked to use only her first name, says she appreciates how the honeys that bees in various neighbourhoods produce have distinct flavours, colours, and textures due to the different plants in each location.
Ali has positive memories, too, of her first time working in a community garden, even though "that's when I had little sense of what it was like to learn about planting vegetables." Not only did she begin gaining gardening skills, she says, she started to form what became long-lasting friendships with the people she was working with.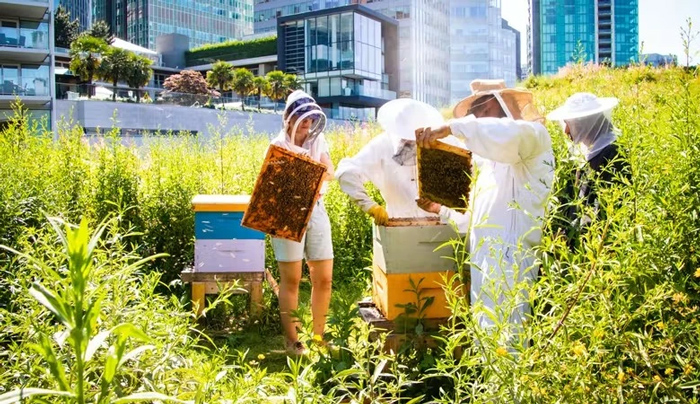 Hives has also partnered with organizations like the Vancouver Convention Centre and the Fairmont Waterfront Hotel to provide bees for the buildings' rooftop hives. These relationships offer work opportunities for their program participants and help educate the public about Hives' beekeeping work. For example, before the pandemic, the Fairmont offered tours of its "Chef's Garden," where guests learned about the herbs and other plants that the Fairmont chef uses in the hotel restaurant, as well as Hives' honey-making operations.
Tara Taylor, who's responsible for community engagement and development at Vancouver's SpencerCreo Foundation — which supports social enterprises in the region — has worked with a number of local community organizations, including Hives for Humanity. She says that one of its strengths is the organization's ability to provide a diverse range of training and experiences for its members.
"It's kind of like honeycombs, which are all connected," says Taylor. "Sarah and Hives have created these tranquil gardens and spaces where the rest of the world can be put on pause." These oases are especially important in areas like the DTES where life for many residents can feel chaotic, she stresses. In Hives' gardens, "people show up for the bees and for the connection."
But maybe Horace sums it up best, when he explains that, through his work with Hives, he's found a caring community that's helped him in many different ways. As with people, he says, "If you love the bees and take care of the bees, they'll love you back."
Print Issue: Winter 2021
Print Title: Sweet Success
Related Stories
---
---