---
Living the Package-Free Shopping Dream
A zero-waste pioneer shares thoughts on community-building, intentional shopping, and unsexy solutions.
Photos by Sun Woo Baik
Jarr founder Emily Sproule peruses plastic-free produce at Persia Foods on Commercial Drive
Founded in 2015, Nada was one of the first zero-waste grocery purveyors in Vancouver. From pop-up beginnings, it grew to a brick-and-mortar store and delivery service. But at the end of May, the business closed its doors. For Emily Sproule, the year leading up to the closure was one of impeccably bad timing.
In 2020, Sproule had launched Jarr, a package-free grocery delivery service also operating in and around Vancouver. She sold the company to Nada last year and intended to stay on staff—but a new cancer diagnosis made that difficult. She ended up stepping back almost entirely.
Just as Sproule was coming out the other side of treatment, Nada was closing. But it only took 10 days from Nada's end for Sproule to find a new beginning: she renamed Jarr's Instagram account to @jarr_mvmnt and started posting about where and how to reduce packaging waste while shopping in her East Van neighbourhood.
For Sproule, revamping Jarr's Instagram was about opening up possibilities for the future. "I wanted to continue to support our community if these stores didn't exist anymore," she explains. "It feels like a second chance to still have the mission that I always had with Jarr. While I'm starting this way with the community-building aspect through Instagram, I'm very open to see where that leads."
Inspiration came from her own experience of finding safe, supportive spaces during cancer treatment. She enjoyed an Instagram account that shared "very humourous posts" about cancer. "They were getting community members to engage with each other," she explains. "I'd love to offer a space where people can feel supported, especially when it comes to eco-anxiety."
Sproule eventually wants to grow the Jarr community to create a network of zero-waste knowledge across the city. "Right now, I can document around my neighbourhood where the plastic-free produce is, but I'd love to do that in all the neighbourhoods of Vancouver," she says. "What we really need is a group of people working together to create these posts, who already live in these communities."
---
One of her first shopping-centred posts featured a trip to the Soap Dispensary on Main Street, which Sproule calls "an easy, quick switch-out for Jarr and Nada." Founded in 2011 as Vancouver's first soap refill shop, the Soap Dispensary started selling food in 2015. The store offers body care products like deodorants, soaps, and lotions; cleaning products for the bathroom, kitchen, and laundry; and pantry staples like flour, cocoa powder, and the dried fruit and nuts featured in Sproule's video.
Shoppers can buy items packaged in paper bags or containers that can be returned for a deposit, bring their own containers, or fill donated containers available at the shop. With an empty container, you start by weighing it, attach a smart tag that remembers that weight, then refill to your heart's content! A cashier will then process the item for checkout.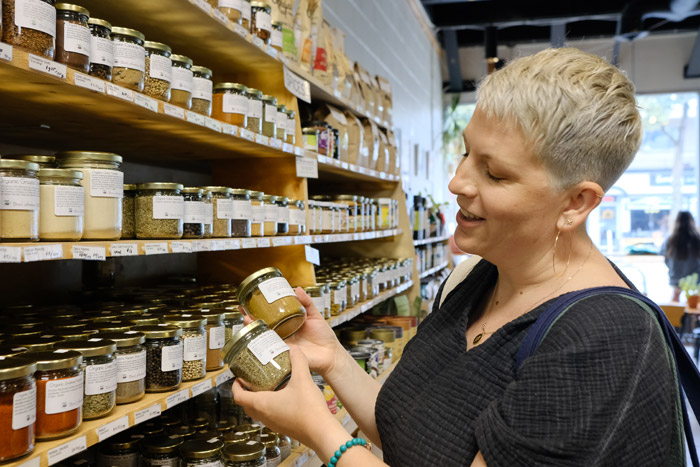 Another option Sproule has highlighted is organic grocer and café Eternal Abundance on Commercial Drive, whose spices come in jars that can be returned to the store for a deposit. About 10 blocks south on the Drive, City Avenue Market sometimes stocks package-free gems like cauliflower wrapped only in its own leaves.
In an Instagram Reel, Sproule shouted out a strategy some Jarr community members are using: buying in bulk and splitting it with friends. "You can control a lot of your household waste by getting larger amounts, especially for shelf-stable items," she says. For example, Sproule mentions that grocery distributor Horizon has a buying club program for groups to purchase large quantities directly instead of going through a grocery store.
Sometimes, though, zero-waste is as easy as picking the right stuff in your usual grocery store. "If something's double-wrapped in plastic, don't buy it," Sproule suggests. You can also find waste-reducing options like bulk dry ingredients and loose produce at "small places that maybe don't classify themselves as a zero-waste store—places like Santa Barbara Market and Persia Foods."
Beyond shopping, some cafés and restaurants in Vancouver such as Matchstick, JJ Bean, and Jamjar are partnering with Reusables, which allows members to pick up drinks and food in reusable metal cups, bowls, and rectangular containers they rinse after using and return to a washing centre. And since June, an Uber Eats pilot program lets users order food packed in Reusables' metal containers from participating merchants across Vancouver.
Sproule also mentions ShareWares, another Vancouver-based reusable container program. Beyond cafés and restaurants, ShareWares partners with event producers like Bard on the Beach and the Vogue Theatre to offer reusable cups labeled with QR codes that tell attendees where to return them for a refund.
---
For Sproule, shopping intentionally makes a difference. When we're shopping, she says, "We feel like we have to have everything." Sproule tries to fight that impulse, though she's not always successful. Still, it's been helpful for her to take a moment to decide when something isn't needed, to notice when something is packed excessively, and to let go when something that comes with too much packaging can be omitted from a recipe. These strategies can also be more accessible ways to reduce waste for those who can't afford the premium that often comes with shopping at dedicated zero-waste stores, Sproule says.
As simple as her tips might seem, that's kind of Sproule's whole thing. "I spent a lot of time trying to think of really sexy solutions. We all want the tech and we all want that miracle composting bag," she says. But Sproule has found it's most effective to go "back to basics, to what our grandparents did. It's being more connected to our food and actually just doing the unsexy thing."
Sproule believes a culture of reuse can help change the world. And the point is to change. The search for perfectly recyclable, compostable, miracle materials is so attractive, Sproule thinks, because it means we don't have to change our habits.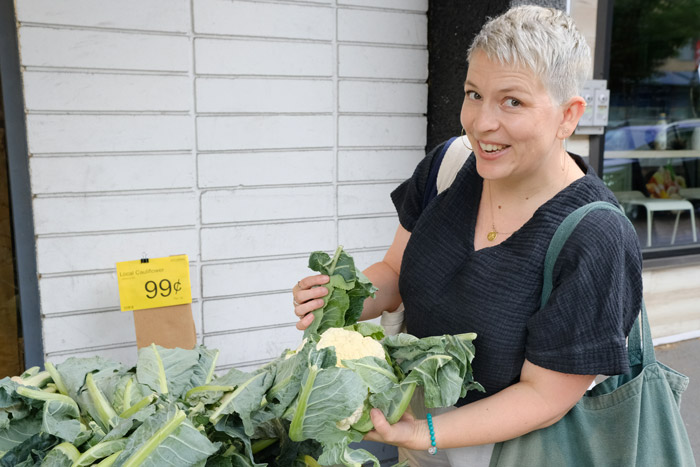 "I remember researching compostable packaging 15 years ago," she says. "And being like, 'I want this to be the answer, but it's not.' When you try to make something look like plastic and act like plastic, it's going to do just that in the landfill."
She recognizes that change can be uncomfortable. It takes a toll, and to make our choices sustainable, Sproule says, we need a balance between having conviction in our own capacity to act, and compassion for ourselves when we're overwhelmed.
"I think true self-love and self-care is really an extension of wanting to care for everything around us," she explains. "Being able to care for ourselves and know when we have the capacity to move forward and when we don't—that internal perspective is what will help us."
---
This article is second in a series about reducing plastic in our lives. The series was made possible by a Vancity Community Branch Grant. Read the third story: "Shoes: The Pollutants Beneath Our Feet."
Related Stories
---
---