---
Get to Know North America's Oldest Eco-Certification
Know Logo helps you navigate today's greenwashed marketplace, one eco-label at a time. First up: EcoLogo.
Photo: Rawpixel
So many products make claims about being "green" and "eco-friendly," and the proliferation of eco-labels only makes shopping trips more confusing. Enter Know Logo.
At the grocery store with my father once, I stumbled on a package of plain almonds proudly and unironically labeled "dairy-free." We laughed while putting the suspiciously distinguished, but naturally "dairy-free," product back on the shelf. I think back on this as an innocuous example of the increasingly saturated label market, drawing on diet fads and our eco-moral compass to convince us to take products home.
Such labelling seems misleading, but what about the multitude of green and blue, leaf-bearing, ambiguous "natural" labels on shelves these days? How can we sift through products claiming to be "green," "eco-friendly," and "sustainable" and find the greenest of them all?
Enter Know Logo. Asparagus will periodically review different eco-labels to help you figure out which ones are worthy of your attention. First up: EcoLogo, North America's oldest eco-certification.
So, what exactly is EcoLogo?
Created in 1988 by the Canadian government, EcoLogo (formerly known as "Environmental Choice") certifies diverse products, ranging from paint to cell phones to refrigerators. It is recommended by a range of organizations, including the US Environmental Protection Agency, the David Suzuki Foundation, the Natural Step, and Manitoba's Green Action Centre. EcoLogo-certified building materials are also used to improve sustainability in the construction industry.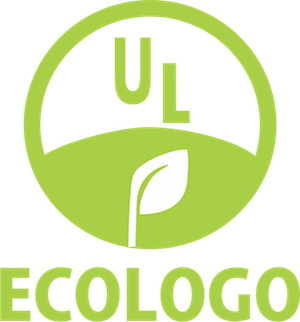 In addition, EcoLogo is one of only two North American certification standards approved by the Global Ecolabelling Network. That's because it meets the ISO 14024 environmental label standard, which requires that labelling is voluntary, done by a third party, and reviews the entire life cycle of the product. Today, EcoLogo is run by UL LLC, an American company that develops environmental and sustainability standards for various products and services under multiple certifications, including EcoLogo and Greenguard.
How does it work?
EcoLogo publishes environmental standards, and certifies products that meet or exceed those standards. An EcoLogo doesn't indicate that a product has zero environmental impact, of course, but that it has a relatively small impact compared to similar products. EcoLogo evaluates products using science-based criteria, carries out third-party audits to check products meet its standard, and charges companies for its testing and certification services.
EcoLogo's criteria consider the environment, human health, and safety by accounting for a range of factors, including energy efficiency, water consumption, air pollution, materials processing, noise, packaging, and more. For example, to receive an EcoLogo certification, personal care products like hand soap cannot be tested on animals or include a variety of harmful chemicals; must be biodegradable; and must be made with recyclable manufacturing materials.
So, don't worry — toilet paper at your local drugstore isn't about to get an EcoLogo for being 2% recycled. In order to get certified, toilet paper must contain at least 50% recycled content, in addition to meeting criteria related to reducing pollution, energy use, and greenhouse gas emissions during the production process. Products must also meet performance standards, so they aren't just green, they work.
How can I find certified products?
Look for the EcoLogo symbol on products at your local store or head over to SPOT for an EcoLogo product database. To get more information about the criteria used to evaluate a product, visit the UL website. After creating a free account, you can view documents describing standards for different types of products, including building materials, cleaning products, personal care products, and electronics.
Is there a catch?
In our research, Asparagus didn't find any scandals except for an issue with hydro-electricity in British Columbia. In 2012, EcoLogo was called out for being too lenient with its certification for run-of-river hydro projects in BC because it used narrow criteria focused on fish without considering issues like water-flow rates that affect their welfare. UL pledged to revise the criteria. Their latest standard for water-powered electricity, which came out in 2018, says certified hydro-electric facilities cannot significantly harm or destroy fish habitat unless they replace it with similar habitat nearby.
Buzzword Summary
Respected! Accredited! (Almost) conflict-free!
Print Issue: Summer/Fall 2019
Print Title: Know Logo: Ecologo
Related Stories
---
---