---
Exploring Environmental Grief through Whale Songs
Combining music, field recordings, and puppetry, Songs for a Lost Pod is a journey through natural and personal history.
Photo by Thomas Lipke via Unsplash
Composer Leah Abramson's dreams featuring orcas inspired her to create an album, and then a multimedia performance, called Songs for a Lost Pod.
"If you're going to have a kid, you have to worry about the future," said composer and singer Leah Abramson, 40, while speaking to Asparagus about her upcoming show Songs for a Lost Pod. The multimedia concert features live narration and takes the audience through a series of deep, haunting songs that explore science, environmental grief, Abramson's traumatic family history, and the story of BC's A5 pod of northern resident orca whales.
"Having children is a very hopeful act, but it also feels a little bit scary to bring someone into the world in a climate emergency," Abramson said. Becoming a mom amplified her resolve to process her environmental grief and traumatic family history through music, and to share that journey with others.
If you're going to have a kid, you have to worry about the future.
"I spend all this time worrying about passing my own [trauma] stuff down to her, but we're also passing down this world to our children," she added. "It felt urgent for a long time, but now it feels desperate… [for me] to reach people, and have them connect on a human level to other creatures. Being able to relate to other species and animals is even more important right now."
Scheduled for May 28 and 29 at SFU's Goldcorp Centre for the Arts in Vancouver, Abramson's show is a reimagining of her 2017 album of the same name. The album's songs will be interwoven with a live narration performed by artist and musician Barbara Adler, who will tell the story of how and why the project came to be. Local shadow puppet troupe Mind of a Snail will project visuals to illustrate the story in real time.
Recurring whale dreams
As a kid, Abramson had recurring dreams of beluga whales. As an adult, she began having these dreams again, but this time around they featured orcas.
Soon after the whale dreams returned, Abramson happened upon a record featuring whale songs in a thrift shop. It had been recorded at Alert Bay, BC, a small town located on Cormorant Island, off the northeast coast of Vancouver Island. She took the record home.
A few years later, in 2012—10 years into her music career— Abramson began learning to play the theremin, an electronic instrument invented in 1928. She describes making music with the theremin as "play[ing] space around two antennas," and the resulting sound inspired her to pull out the whale sounds record.
"I realized I could play along with the whale sounds on the theremin. And then it just kinda spiralled into whale research."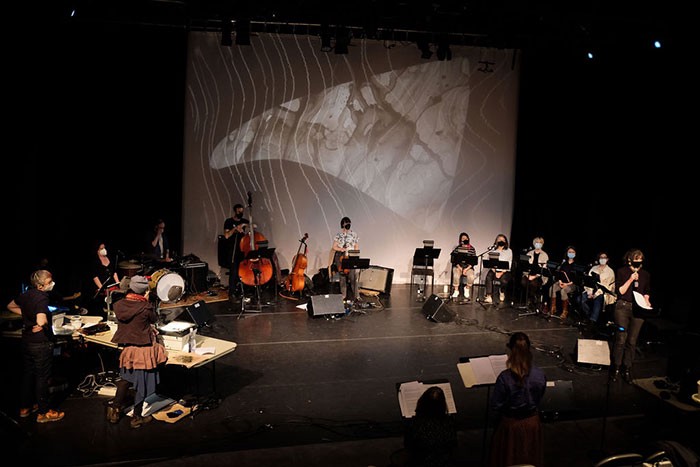 Abramson quickly realized that she wanted to go deeper into that research and realm of songwriting. But she wanted structure and support to ensure she would see the project through. At the time, she was teaching songwriting for the University of British Columbia's creative writing department, so embarking on a Master of Fine Arts within the department was a natural fit.
"It was just really obvious to me how I could structure [my course of study] and who my mentors would be," she said.
The degree, which she started in 2014, gave Abramson time to take several research trips up to Sointula—a village on Malcolm Island that's a half-hour ferry ride from Alert Bay—as well as Alaska. During her journeys she was able to see and hear orcas, and take field recordings. Those, along with pre-existing audio of the A5 pod's vocalizations, were turned into beats and tracks that formed the musical building blocks of the album.
Turning the album into a multidisciplinary performance was a gradual process. Songs for a Lost Pod was first mounted in 2017, and then again in 2018. During the first show, Abramson had Adler read some very basic research facts between the songs. But this only made Abramson want to take it further.
"I realized there was a lot more behind the songs that I wasn't saying, and I felt like I needed to write something more, that the show wasn't really finished," she said.
She continued developing the narration script for a 2018 concert at the Vancouver International Jazz Festival, but after that performance, she still didn't feel satisfied. "The narration was incomplete, and missing a big part of the story, and I wanted it to be in a theatre, to tie it all together."
The A5 pod
Northern resident orcas live off the coast of BC and up through southeastern portions of Alaska. These fish-eating orcas are divided into three vocally distinctive groups: the A clan, the G clan and the R clan. Abramson's master's research narrowed quickly towards the A5 pod, a small group within the A clan that had lost several family members.
On December 11, 1969, the pod lost at least three members to capture. This story is featured on the album in a song called "Pender Harbour," its title referencing an area on BC's Sunshine Coast where the capture took place.
Accompanied by synth, guitar and piano, Abramson sings softly — amidst echoes of her own voice — from the point of view of the pod.
They drove us into the bay (dark messengers), into the net pen. Overhead the raven, underneath the rockfish (dark messengers).
Losing family members is something Abramson is acutely familiar with, even though she wasn't alive when it happened. Her grandparents survived the Holocaust, but lost everyone else in their families.
"It's been really hard for me to process that family history, and for a long time I turned away from it," she said. "I really didn't want to think about it too much, because it's just too intense."
But learning about the history of the A5 pod allowed her to finally turn towards it. "There was something in studying whale families that felt a little manageable, and allowed me to dip into my own… family. Kind of in and out, like a mirror image."
Parenthood and a pandemic
It's been five years since Abramson released the album, and four years since she has performed the show it inspired before an audience. In the interim she became a parent and lived through a pandemic, which have both propelled her forward.
The pandemic has been "terrible" for Abramson — as it was for most people — and caused the performance to be rescheduled several times. But she says that, for better or worse, it also gave her more time with the material.
"I've completely rewritten the script — it's much more of a stage show than it ever was," she said."I think… [having a child] made everything just more relevant and more emotional and more interesting."
Changing systems
Songs for a Lost Pod has also served as a way for Abramson to process climate grief. The album and show make reference to issues such as oil spills, the threat of species extinction, and the impacts of underwater shipping noise, all of which affect whale populations. However, the production isn't explicitly about climate change.
"There's certain things that refer to aspects of climate change, but it's not an overt reference," she said. "It's definitely, like, subtext."
But the climate crisis is something she's constantly thinking about. Being a parent of a 3-year-old, Abramson often worries about the future and wellbeing of the planet.
"It will take countries making big sweeping changes to actually make a difference in terms of ocean temperatures," she said. Yet the herculean task of seeing that those changes happen weighs heavily.
"It's scary…not knowing how exactly to do that," she said. "Or trying your best, but knowing that you're [only] one person."
Related Stories
---
---