---
This Seattle Restaurant Makes Filipino Food with Local Ingredients
A commitment to sustainability led Archipelago to replace SE Asian staples with NW Coast stand-ins.
Photo by René Asis
Guests at Archipelago are served by the owners at a long communal table.
One of Seattle's newest farm-to-table restaurants, Archipelago, pays tribute to the owners' Filipino roots — but with a Pacific Northwest spin. Sustainability is such a priority that married founders Amber Manuguid and Aaron Verzosa eschew the use of non-local ingredients like rice and soy sauce. Instead, the team get inventive, finding regional stand-ins that allow them to uphold Filipino traditions.
Each meal begins with a serving of pandesal, a semi-sweet bread roll common in Manila — but Archipelago's version comes with a smear of butter flavoured with salmon or shallots, and Idaho sturgeon caviar. From there, the dishes change with the seasons: One might sample a raw-fish dish called kinilaw, which is made with verjus from pressed green Washington grapes instead of the traditional vinegar. The dish is also paired with slices of local apples and served in a sardine tin to symbolize the cannery jobs many Filipinos worked in Washington State in the early 1900s. In its version of a sour soup called sinigang, Archipelago turns to Washington-grown cranberries instead of tamarind. In place of rice-based miki noodles, Verzosa makes noodles from red wheat flour and house-milled rye berries.
Verzosa and Manuguid sat down with Asparagus to talk about Archipelago and their commitment to sustainability. This interview has been edited for length and clarity.
Megan Hill: How have diners received the restaurant since you opened last December?
Aaron: We've had a great diversity of folks come through the restaurant, both Filipino and not. What's cool is to see people come out from all over the city and throughout the West Coast, and people from the Philippines. And from different generations as well, whether they've just come to the United States or have been here a long time. It's been great to see how our narrative and what we're trying to share is resonating with a lot of Filipinos from all over. It's been fascinating to engage with people that are a little familiar with Filipino culture, plus people that don't know anything about it. There's been such a spectrum of people that have come from all over and that's been a joy for us to share.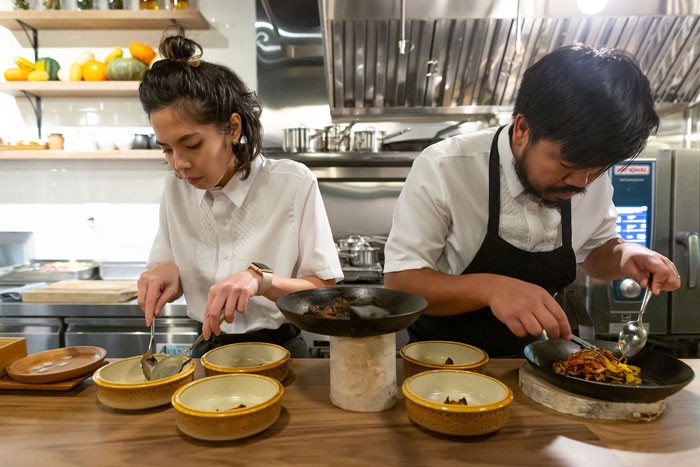 How did the restaurant come about?
Amber: Aaron has been cooking for years and I always wanted him to share his creativity. We met at the University of Washington, where we both studied Filipino American studies. We've been able to share a lot of the passions we had in college, and bring those things to fruition with Archipelago.
Aaron: We're both from the Northwest, and our parents are from the Philippines. We straddle the US and the Philippines in an interesting way. We wanted to work hard for the culture we grew up in, and to respect the ancestors that built our cuisine long before us.
What can people expect when they come to Archipelago?
Amber: We used to do these small R&D dinners when we were trying to figure out what we wanted to do and we learned what resonates with people. It turned into this thing where we were interacting with people and providing context and history. So yes, people come in and they sit down and we feed them, but it's a communal table that we open up for conversation. We joke with our guests, we learn about each other, and we take them on a journey, dish-by-dish, that tells the history of Filipinos in Seattle and the Pacific Northwest.
Aaron: There's an open kitchen, so you get to see everything that happens. We only seat eight at a time so every guest has a direct connection to us. We wanted this to feel like you're at our parents' house or our house. The heart of our culture has to do with sustaining that hospitality and the idea of something being cooked out of the home. We chose that format so we could sink our teeth into dishes that we know and dishes that might be more obscure.
Where do you source your ingredients from?
Aaron: Archipelago is working toward sourcing as much, if not everything, from the greater Northwest. We use things from Oregon, Washington, southern British Columbia, and Alaska. The majority of things on the plate might come from me going to a neighborhood grocery and sourcing something from this region, or going to our local farms. Filipino cuisine has been built on a lot of fermentation, from fish sauce to condiments, and that adds layers of flavor.
The Northwest has an amazing growing season, even in winter, so we try to preserve as much of that as we can, using techniques that were [created by]our ancestors, like fermenting and salting. We're also excited to work with [Filipino] farmers in Eastern Washington who grow Filipino greens you won't see in major grocery stores, like chili leaves, chayote, okra, and bitter melon that you won't see in major grocery stores. Those are instant building blocks of Filipino flavor.
Amber: Overall, environmental sustainability is incredibly important to us, but also sustainability of people. It's important that we shop from people-of-color business owners, people in our neighborhood, and Filipino American farmers. We want to bring business back to the rest of our community.
What else are you doing to further sustainability in your restaurant?
Amber: The reservation system helps us know about ingredient volume ahead of time so we can reduce food waste. Often, we get to end of dinner and have almost nothing in the garbage can. It's so gratifying.
Aaron: This is where we were born, so it's important to us to take care of this beautiful region that so many of us share. We're trying to be the best stewards we can, and that's the heart of it.
Related Stories
---
---