---
Books for Budding Activists
These five books inspire kids to be kind and use their voices for justice.
Photo by Mélodie Descoubes via Unsplash
I am in awe of young children, first as an educator and now as a mother of two young kiddos. I wish we were more like these thoughtful, empathetic, loving little humans. The way they notice and observe the tiniest of bugs on the sidewalk, the wholehearted love they have for their family, their natural kindness towards others, and their continual efforts to strive for justice and fairness.
As expectant parents, we begin to think about how we will teach our children about life. We lie awake at night questioning our job as parents and teachers. What kind of role model will I be? How will I educate my child about kindness, empathy, and a belief in equality and inclusivity in a world that challenges these qualities even as an adult?
When my son entered grade 1, my skills and abilities as an educator and mother were tested. Every day as I picked my little man up from school, we had discussions about the "happenings" of the day, what words were used by students, what actions were displayed and what feelings were expressed. He now had to navigate a new world full of different people with diverse beliefs, values and behaviours, just like an adult entering a new job environment.
As my son's world transformed, my guidance and teachings suddenly required modification and questioning: How do I teach my child to be kind and stand against injustice? How do I encourage empathy among students that mistreat him? How do I teach him to be brave and use his voice for peace?
Books have a way of influencing. They're also a great tool to teach children some of the most important lessons in life. Here are five books (appropriate for ages 4–7, give or take a year) that will inspire children and adults to try and make the world a better place with their words and bravery.
written and illustrated by Peter H. Reynolds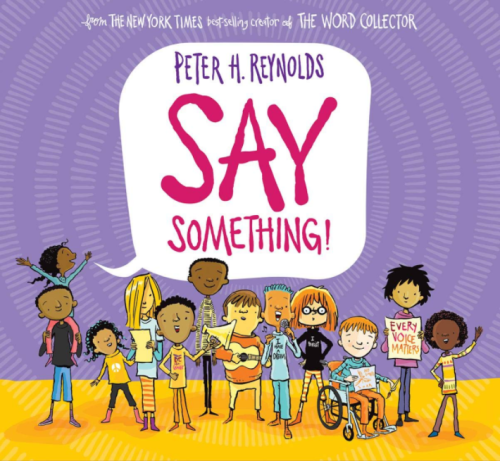 Say Something, written by Canadian author and illustrator Peter H. Reynolds, uses simple yet powerful words to encourage his readers to, "Say something. With your words. With your art. With your music. With your poetry. With your courage. Or simply with your presence." The positive messages like, "If you see someone lonely… SAY SOMETHING… by just being there for them," resonate like a choir in a concert hall. Large bold words are combined with colourful textured backgrounds.
As an artist, I appreciate how he creatively uses specific colours to create emotions. For example, blue for loneliness, green to represent speaking up for nature, and red for standing up against a bully. His artwork is simple yet impactful. This book sits on my special bookshelf at home, and is a favourite with both of my kiddos. I love this book for the powerful evocations and messages of positivity and kindness.
written and illustrated by Kathryn Otoshi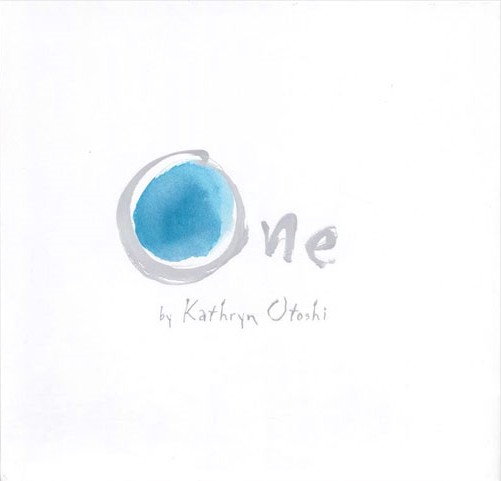 One is a symbolic book about standing up to bullies. This story is about Blue, a quiet colour who enjoys looking up into the sky and splashing in puddles. The conflict occurs when Red, a hothead, picks on Blue. With colours as characters in the story, Otoshi does a wonderful job evoking compassion and empathy from readers by incorporating relatable human qualities into each character. Even as an adult, I have authentic sad emotions when Blue is mistreated.
The story continues as Red picks on Blue and the other colours, and grows more powerful, hotter, and redder until One comes along. Number One uses his voice, brings the colours together, and stands up to Red. This thoughtful, character-building book brings the reader into the story with a brave and positive message of how to stand one's ground. It really does only take one person, one child, one "number" to make a difference.
written by Miranda Paul, illustrated by Ebony Glenn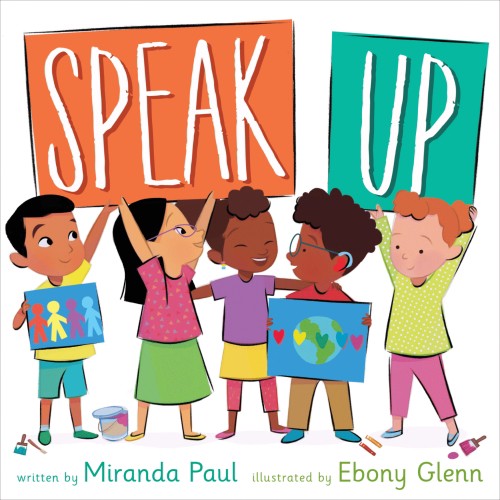 "There are times we should be quiet. There are days for letting go. But when matters seem important一SPEAK UP! Let others know." Miranda Paul uses a melodic, rhythmic writing style to voice a clear message: SPEAK UP! Paul provides opportunities for young readers to participate in the story by using repetition. My own children love joining me on each page in unison as we cheer loudly, "SPEAK UP!"
The story gives tangible examples of how together — through kindness, thoughtfulness, empathy and resilience — we make a positive difference with our everyday actions. "When a rule just isn't fair, or has gotten much too old — SPEAK UP! Work for change. Justice comes when we are bold." This book is a no-nonsense, literal guide that provides solutions to simple, real life scenarios. As an educator, I appreciate all the teachable moments and opportunities for discussion and learning.
written by David A. Robertson, illustrated by Julie Flett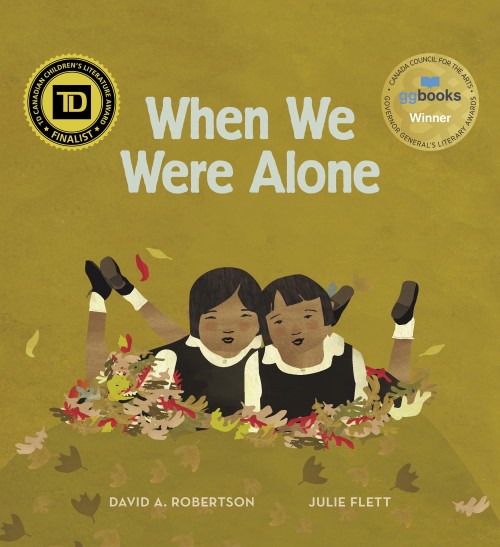 When We Were Alone won Canada's 2017 Governor General's Literary Award for picture books. In this touching story, a grandmother (Nókom) and her granddaughter garden together. The little girl asks her Nókom about her colourful clothes, long hair, and Cree language.
The grandmother describes how the residential school she attended "far away from home" attempted to strip away Indigenous children's culture through haircuts, uniforms, and language rules, and prohibited them from seeing their own families. Nókom shares how she and her friends resisted these injustices, and how as an adult she lives true to herself and her Cree culture.
Julie Flett's art captures our hearts with her soft colour washes and overlapping collages creating texture and depth. I love how she contrasts Nókom's bright red dress with the neutral colours of the environment, symbolizing the strength and determination of a woman who found joy in a difficult, unjust time in her life. Robertson addresses a painful topic in a story children can relate to and empathize with. Through his words, they are empowered to embrace their own cultures and respect others'. It's the kind of story that instills the importance of standing up for each other to prevent future injustices.
written by Alice Schertle, illustrated by Jill McElmurry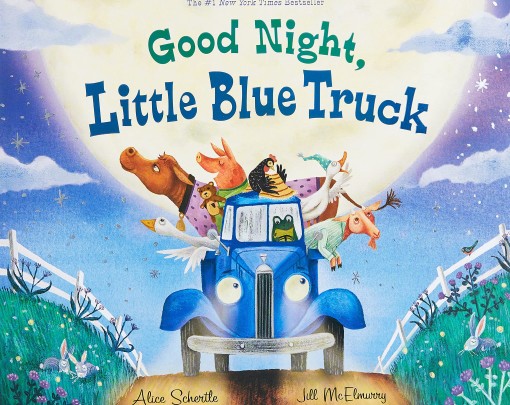 This book was my children's favourite read when they were young, and we still share our love for it today, years later. Little Blue Truck is a fun book, full of heartwarming messages, and teachings of friendship. The author uses sing-song rhyming that creates a joyful reading experience for all. Children are captivated by the cheerful illustrations and the anthropomorphic farm animals.
The story follows the eponymous little blue truck who shows compassion and love towards his community, including a rude, grumpy dump truck. In the end, Blue's animal friends rally behind him when he finds himself stuck. "Now I see / a lot depends / on a helping hand / from a few good friends." Like all the books in this list, Schertle's story motivates readers to be kind, help each other, and to join together to make a difference.
Print Issue: Fall/Winter 2021
Related Stories
---
---