---
Ukrainian Youth "Will Not be the Same"
A social worker shares his fears for the young people living through the Russian invasion.
Photo by the Ministry of Internal Affairs of Ukraine via Wikimedia Commons / CC BY 4.0
A large group of Ukrainian civilians and several soldiers shelter from Russian attacks underneath a damaged bridge in Kyiv, March 2022.
On February 24, 2022, a social worker who works with youth and resides in Bila Tserkva, Ukraine, was drinking a cup of tea and making his way to catch a train to Kyiv. Suddenly, his city was hit with a Russian missile targeting a nearby airfield.
Since then, he has not left his home because of the threat of military violence, but continues to support youth via messaging service Telegram and the video-conference platform Zoom. He worries about how traumatizing this Russian invasion will be for them. For his safety, the social worker's name will not be used in this article.
Since his disabilities prevent him from being able to volunteer on the front lines against the invasion, he shared in a recent interview that telling his story through a Canadian media outlet felt like one of the few things he could personally do to contribute to Ukraine during this devastating period.
"They have their own media represented," he says about Russia. "So information is another part of this conflict. Because they have upside-down information, totally. Like usually happens during war."
Because there had been no military activity on Ukrainian soil since Russia occupied the Crimean Peninsula in 2014, he felt disbelief about the recent escalation of military violence. "After the bombings, people ran to ATMs to get cash. Because [before the invasion] we have this situation that people just pay with cards or Apple Pay or Google Pay. I did not really believe this could happen, this madness," he says, recalling chaos as people worried about losing access to money.
---
The social worker has over a decade of experience supporting orphaned youth in cities across Ukraine to access programs in media literacy and outdoor education. His priority since the invasion has been to make sure these youth were as safe as they could be. He can no longer talk to them in person at his office in Kyiv, but he's doing his best to support youth through this crisis. Prior to the Russian invasion, he assisted over 70 orphaned youth. He has continued to check in on them virtually, despite the disruption of their regular workshop programming to prepare them for accessing vocational opportunities.
Youth have shared stories with him of navigating around heavy armed tanks, military troops, air drops, and helicopters, as some fled to the western part of Ukraine — away from the Russian border — in search of relative safety. Others opted to shelter in basements rather than attempting travel that could prove risky. But he says they all felt strongly against being part of a "renewed Soviet Union."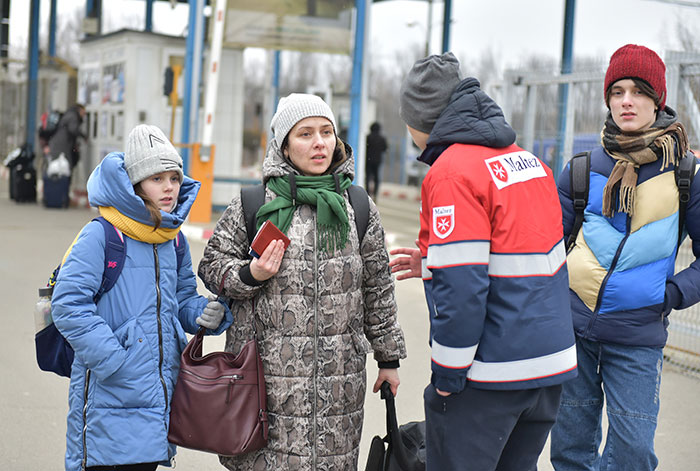 In one particularly heartbreaking instance, he was in a Zoom meeting with youth, and one young man showed explosions occurring around his home. The youth had to leave the meeting to find safety in the nearest shelter.
The social worker shared how schools and universities were closed when military action escalated. With Russian forces continuing to target infrastructure in Ukraine, youth hurried to shelters to navigate curfew restrictions in their cities. The curfews they face don't only restrict movement at night; the Ukrainian capital, Kyiv, recently had a curfew that lasted 36 hours straight. Especially among orphaned youth, who often lack robust informal support systems, such times may be particularly challenging. The longer this invasion goes on, the more he worries about how they will cope.
"We come together on Zoom, and I asked what's happening, and I heard terrible stories. Some people were in the shelters. Some of them didn't manage to come back," he says. "From one contact, I understood that there are clashes around, from bombings to artillery systems. So they will not be the same again after all this is over."
Hearing the youths' stories and thinking about their emotional well-being post-conflict has caused the social worker his own emotional challenges. "I heard stories for several days from students from different cities and regions," he says. "They told me, 'It's bombings now, it's bombings now,' or 'Russians,' or 'Tanks. It's difficult to stand.' So I had this emotional, you know, not breakdown. But really intensive emotional condition."
---
With respect to Vladimir Putin, he says, "It's just his intention to get into the history books" and he calls Putin's claims that Ukraine is not an independent country "nonsense." He reiterated that the Ukrainian people he knows are united in not wanting to be a part of a new Soviet Union. He described how demoralizing it has been to hear news from international media outlets who view negotiations with Russia as progress, while Ukrainian cities continue to be targeted with rockets.
His thoughts on international relations may at first glance seem disconnected from his role practicing directly with clients. But as a social worker myself, I heard his perspective on Russia's eight-year occupation of Ukraine as rooted in the macro practice social workers engage in: providing education about how oppression operates.
He shared that he also worries about family members — especially his siblings with younger children — and understands why they may feel inclined to seek refuge in another country. But he feels strongly that for him to leave Ukraine due to the invasion would be shameful. "I don't know how the situation will turn out," he says. "Maybe I will have to, but for now, I just don't want to leave my country."
Given how dangerous it is to travel around Ukraine right now, he has decided to stay in his apartment. He hopes it will provide some safety from the invasion, as bombings so far have targeted areas that are not close by. Although friends have offered assistance, he does not want to leave his home. And yet, while coordinating this interview, he didn't want to delay our discussion, as he didn't know where he might be.
"When there's warnings, I go to the safest place of my apartment," he says, "meaning that it should be far from windows."
He is grateful for support from family; a check-in call from his sister interrupted our interview. While she has not left Ukraine, she went to a friend's house in the countryside, which they considered safer than staying in Kyiv.
The social worker is adamant that the people of Ukraine will remain united as a country against the Russian threat. And he hopes his country can continue to count on support from the international community to maintain sanctions against Russia to stop this violence.
Despite the threats to his safety, he'll continue to use online applications to support Ukrainian youth virtually. And he's committed to staying put if he can. "I don't really want to live somewhere as a refugee in somebody's place," he says. "I just want to stay here."
Related Stories
---
---