---
This Amazonian People Took Up Cameras to Protect their Territory
Filmmaker Alex Pritz collaborated with the Uru-Eu-Wau-Wau to document their fight against a colonial onslaught.
All photos by Alex Pritz/Amazon Land Documentary
A settler rides through a patch of burning Amazon rainforest, within the territory of the Uru-Eu-Wau-Wau people.
A mud-caked truck roars through a patch of razed Amazon rainforest. Two men trudge through dense thickets as the din of machinery pierces the gentle forest hum. One of them sharpens his chainsaw blade with a steel file. Only a minute into director Alex Pritz' documentary feature The Territory, an invasion is underway.
The land these men are invading belongs to the Uru-Eu-Wau-Wau, an Indigenous people whose territory is subsumed by Brazil's western state of Rondônia. (Their name for themselves is Jupaú, but the more familiar Uru-Eu-Wau-Wau — given to them by the neighbouring Wari' people — is used throughout the film.) Settlers have been invading Indigenous land in Brazil with increasing frequency and boldness in recent years, particularly since the start of the pandemic.
Shot from 2018 to 2021 in Portuguese and Tupi-Kawahiva, The Territory is a portrait of how the Uru-Eu-Wau-Wau people are blending traditional knowledge with the power of cinema to resist the forces that fuel invasions and justify land grabs. It is screening as part of this year's DOXA Documentary Film Festival.
The documentary follows Bitaté — an Uru-Eu-Wau-Wau land defender chosen at 18 to lead his community of nearly 200 — and his mentor Neidinha Bandeira, a Brazilian environmental activist. It also features two settlers: Sérgio (a poor farm worker organizing with others like him to legitimize their seizure of a land parcel they call Rio Bonito), and Martins, a settler clandestinely logging and burning swathes of the forest for himself.
In an interview, Pritz described the land-grabbers as largely skeptical of the media. They saw anyone "reporting anything that sniffed of environmentalism," as likely to portray them unfairly, he said. He came face-to-face with that skepticism in one of his first interviews, with a settler who does not appear in the final cut. "He sat me down before the interview, started picking up his cell phone and said 'I'm gonna record this. Can you list to me everybody that's given you funding for this film and what their affiliations are?'"
Pritz said he was surprised by the "confidence and impunity [the settlers] felt they had. They were operating with complete fearlessness in terms of any repercussions from the law, for even things that they admitted were illegal."
Their brazenness was partly fuelled by the 2018 election of President Jair Bolsonaro, who campaigned using unabashed anti-Indigenous rhetoric. "The first invasion that we [captured] on film happened just 10 days after Bolsonaro was inaugurated," Pritz said. "People were saying 'Our guy's in power.' and 'He gave us the land.'"
The documentary highlights similarities between North American settler-colonialism and how the farmers and land grabbers imagine themselves. "For those who live here, the Brazilian dream is to own some land, and make your living from it," Sérgio says in the movie. "I'm 49 years old, and I've spent my whole life working other people's land."
In another scene, a member of Sérgio's organization wears a beige baseball cap emblazoned with the words "TEXAS FARM." Others wear cowboy hats. Sérgio wears a cap with an embroidered red-white-and-blue outline of Texas overlaid by a bull skull.
"They are laying bare the foundations of this settler-colonial project, in a way that in the US — and I think in Canada as well — becomes a bit abstracted," said Pritz. "People [in North America] have semantic arguments about what is or isn't settler-colonialism, [but] it's the same thing. It's just what [Sérgio and Martins] are doing is a more physical, obvious version of it."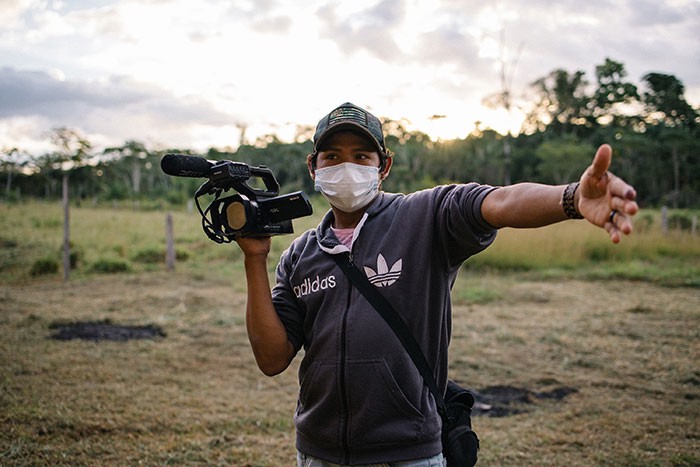 When the pandemic hit Brazil in March 2020, Bitaté swiftly sealed off the Uru-Eu-Wau-Wau's territory from outside visitors, including Pritz' crew and Bandeira. This response was informed by collective memory. The Uru-Eu-Wau-Wau's first contact with the Brazilian government (and society generally) was only 41 years ago, after which more than half the population died from communicable diseases.
So community members took up the cameras themselves. "[Bitaté] took this idea of participatory filmmaking 10 steps further, and [we] relied on the community to produce, shoot, conceptualize, execute entire scenes of the film," Pritz recalled.
Though the pandemic divided them physically, it generated a "much closer partnership" between the filmmakers and what became the community's media team, Media Jupaú. This approach was particularly fruitful because of Bitaté's media savvy. "Bitaté has his interest in the media prior to our film team arriving," said Pritz. "It was one of the reasons that he was elected president of the Uru-Eu-Wau-Wau people. He represented this young new hope that they could begin to translate their messages into new forms."
The role of evidence in upholding a group's claims is central to the movie. "Bitaté picks up the camera, not because he wants technology for technology's sake," said Pritz, "[but] because it's a tool to translate his community's message — that they've been sounding for generations — into a form that these Western institutional structures will accept as evidence."
"As leader of the Uru-Eu-Wau-Wau," Bitaté says in the film, "my role is to bring connectivity to the villages. I'm connecting Indigenous land to the rest of the world, so that others can support us."
But documents can also be tools of colonial violence. "By the same token, Sérgio is trying to create maps," Pritz explained. "These land [grabbers] often will draw up a fake map, and then that fake map becomes real, once enough people agree on it."
Since wrapping The Territory, Pritz and his team have continued to work with the Uru-Eu-Wau-Wau to build a multimedia and cultural centre they can use to make their own productions. "For me, a really exciting part of the film is that the story of the Uru-Eu-Wau-Wau media team doesn't finish at the credits." Pritz said. "It's really the beginning for Bitaté and the rest of his colleagues to continue telling these stories themselves."
Vancouver's DOXA Documentary Film Festival runs from May 5–15, 2022. The Territory (84 min, Portuguese and Tupi-Kawahiva with English subtitles) screens in person on May 7 at 8:45 pm, at the VIFF Centre, and on May 15 at 12:45, pm at The Cinematheque. It can also be screened virtually from anywhere in Canada throughout the festival. Tickets to in-person and online screenings are available on the DOXA website.
Correction: This article originally described the documentary as being only in Portuguese. It also contains scenes in the Tupi-Kawahiva language.
Related Stories
---
---