---
A Long Road to Action
Xena Szkotak is walking cross-country for missing and murdered Indigenous women, girls, and Two Spirit people.
Photo by Teresa Snow
Red dresses are displayed in memoriam of missing and murdered Indigenous women, girls, and Two Spirit people on Stoney Nakoda lands, near the Rocky Mountains in Alberta.
On February 24, 2021, Xena Szkotak started walking the 7,821 kilometres from Victoria, BC, to St. John's, NL, along the Trans-Canada Highway. The 25-year-old, who has Indigenous heritage but was raised by her Polish parents in Edmonton, has hiked through sleet, snow, and rain to increase awareness about missing and murdered Indigenous people, and to raise money for the Native Women's Association of Canada. She never gives out her exact location for safety reasons, but in mid-April she was somewhere near the Prairies.
Two months after setting out, Szkotak had a conversation with Gloria Snow, a member of the Stoney Nakoda Nation who works as an Indigenous advisor to the town of Cochrane, AB. She is currently planning a local Red Dress Day in memory of the missing and murdered. Red Dress Day was set aside by Indigenous women to honour missing and murdered women, girls, and Two Spirit people from their communities.
In 2019, Canada's National Inquiry into Missing and Murdered Indigenous Women and Girls released a final report that concluded there is no reliable estimate for the number of missing and murdered Indigenous people in the country. The inquiry's backgrounder notes that 16% of all women murdered in Canada between 1980 and 2012 were Indigenous, though they only make up 4% of the population.
Red Dress Day is typically commemorated in May, to raise awareness about the ongoing violence faced by Indigenous women. Szkotak and Snow connected over the power of awareness and action in the face of this injustice. This conversation has been edited for length and clarity.
---
Gloria Snow: How has this experience been for you so far?
Xena Szkotak: So far it's been amazing! It's been really scary, though. I was travelling in a tent for the first two months, and I had some unfortunate circumstances that led me to not feel comfortable sleeping in my tent any longer. So I just bought a van and found someone to drive it across the country as I walk.
I knew that it would be isolating. I knew that it was going to be scary. But how fast that would impact me was really unexpected. One thing I had considered was that I was privileged, because I could choose my suffering: a long walk, weathering any storms, weathering hot temperatures. These are sufferings I chose, and I wasn't expecting to be quite as impacted by the suffering that I cannot choose — which is the fear of being a woman.
[The issue I'm raising awareness about] has become more real for me. I'd grown up in Edmonton, so I know what the struggle is like to be a woman, or an Indigenous woman, growing up in a town. But to get out into the rest of Canada — especially when there's really not a lot around — to know what that is like, to be alone out there, to be a woman out there, to be Indigenous out there… It's become so much more real.
I can imagine. The way you're explaining it, you're in the middle of nowhere with very little support. Maybe just your cell phone, right?
Yeah. I had a lot of women reach out as I was passing Calgary. They were worrying for my safety coming into the Prairies, and sharing their loss with me and their experiences… it was very powerful. I felt like I had to make a change to my plan. That really did worry me.
What kinds of discussions have you had along the way about murdered, missing, Indigenous women and girls, and Two Spirit people?
I've had a lot of people message me and say, "What you're doing is so powerful." And, "Thank you so much. I've got this many sisters missing, and this many sisters murdered." And how much it means to them. It's an honour to have these women reaching out to me. And it is really, really powerful to feel like I can offer them some sort of hope, or comfort.
Most unexpected of all is the amount of support of women reaching out to me. I really wasn't expecting that, you know? Or really any attention at all. It's become something powerful and I'm really, really thankful for that.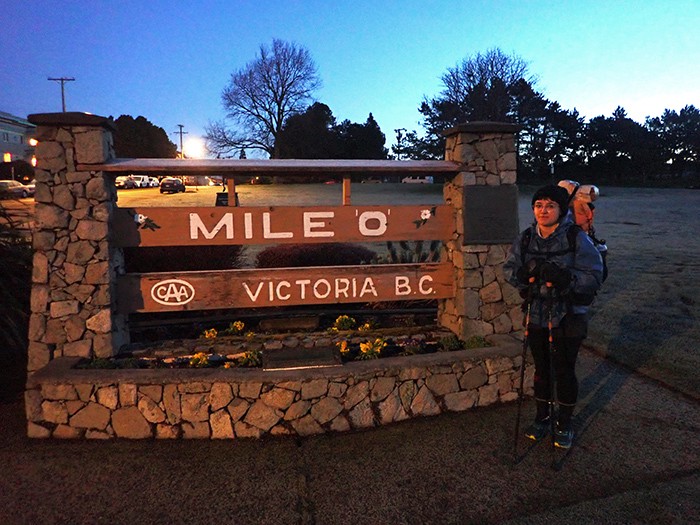 Walk me through what led you to do this.
I had planned to do long walks in the United States in the summer of 2020. When the pandemic hit, I thought, maybe I'll just walk across Canada. I figured it would be an amazing opportunity to bring awareness for something I cared about.
What kind of support systems have gotten you through?
I do have a satellite phone for emergencies. So if there's parts of the highway where my phone doesn't work, I can send text messages through that. And it has an SOS function, which I haven't used, thankfully. That makes me feel a lot safer. I have a friend that I'd text every time I pitched my tent, and I'd give my location for the night. When I had time — on my town days where I was just resting — I would check in with my family.
What's something that people could do right now to help bring about real action when it comes to the issue of murdered, missing Indigenous women, girls, and Two Spirit people?
Understand the situation, know what's going on. Not a lot of people know that these women are missing and murdered. Spread awareness. I felt like there was nothing else I could do, which led me to doing this.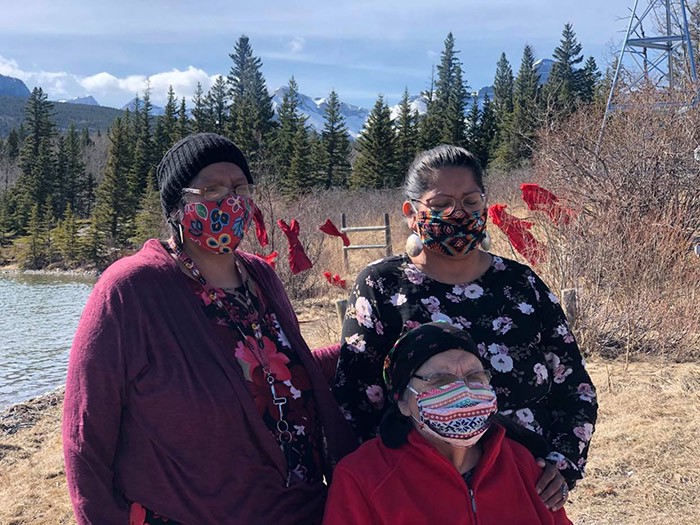 You inspired the Town of Cochrane, and the work I do with Indigenous engagement there, to create our own Facebook page [about the issue]. The page has just been launched, and we will be having an event for May 5th. As a grassroots initiative, we're ruminating on the roles people can take. We have a lot of allies, and we have a lot of Indigenous people. We also have families of young men that have gone missing, so that's been a further layer to this.
My sister will be making ribbon skirts and ribbon shirts and commemorating two families that had lost their sons. They were found, and they have passed on. But the circumstance about how they went missing and how that all happened, it still resonates with these families.
I read this quote the other day: "When someone is broken, don't try to fix them. (You can't.) When someone is hurting, don't attempt to take away their pain. (You can't.) Instead, love them by walking beside them in the hurt. (You can.) Because sometimes, what people need to simply know is that they aren't alone." Can you reflect on this?
I think that is the best thing that you can do, is just to be there. Just to be present is so powerful.
I want to again say ish-nish [thank you in Stoney] from Treaty 7 Territory. We thank you for all of your courage and your bravery to do this walk. I think we're hitting a good stride to enrich people's understanding of murdered and missing Indigenous women, girls, and Two Spirit people.
This conversation was recorded by Brianna Sharpe.
Print Issue: Spring/Summer 2021
Related Stories
---
---