---
Reclaiming a Tradition of Weaving with Nettle
Most people fear stinging nettle. Artist Sharon Kallis makes clothes from it.
Photo by Martin Borden
Sharon Kallis took 12 years to make a coat from stinging nettle, including 11 years of knowledge-gathering, and hand-harvesting, preparing, and weaving the lustrous brown fibres into fabric.
When I first met Sharon Kallis in October 2020, she was weaving a coat she had been working on for 12 years. That is if you account for the process as she does: 11 years of knowledge-gathering, added to the time taken to hand-harvest, prepare, and weave the lustrous brown fibres for the fabric. After that, the coat could be assembled: the various pieces could be stitched together, the pockets knit and sewn in, and the seams finished. But the length of Kallis' undertaking wasn't the only reason this would be an extraordinary coat. She was also crafting the garment from a plant most people fear: stinging nettle.
Kallis is an artist, but not the kind that you'll find holding gallery shows or lounging around a paint-speckled urban studio. In the late 1990s, she had just graduated from the Emily Carr Institute of Art and Design, too broke to afford art materials. Then she discovered a green-waste pile in her local park, where the park's gardener had been discarding grounds-work clippings.
"I started poking that pile of sticks with this attitude of like, 'Enough of anything can be made into something.'" That moment led to two decades of learning about, and working with, unwanted plants from Vancouver's public parks — like nettle.
Kallis, who has a shock of short white hair and a dimple in her right cheek, talks with her hands as she tells me that people often misunderstand nettle. They often see it as invasive, even though it's native to the northern hemisphere. Plus, most people associate it with its sting: the plant's deep-green, toothed leaves and long stems are coated in tiny hairs that inject acids and neurotransmitters into the skin, causing a rash. In Kallis' experience, though, the pain isn't extreme. "The fear is worse than the thing itself," she says with a wry smile.
In the history of textile agriculture, nettle was once used in clothing, thread, fishing nets, and travel bags, but Kallis says that it became sidelined in favour of plants like flax and cotton because it's difficult to process. Kallis harvests the plant with her bare hands — she says she feels only minor stings, and there is medicine in the plants that helps with her arthritis. She softens bundles of nettle stems underfoot, and cracks the stems open to reveal precious fibres.
Following that, she rolls the nettle fibres on her thighs, makes them run parallel by "carding" or combing them, and boils them in borax, which removes oils and prepares the fibres for dyeing. Only then are they ready to be spun into thread. That thread creates a fabric even softer and stronger than linen. To Kallis, that's a fabric whose value cannot be easily measured.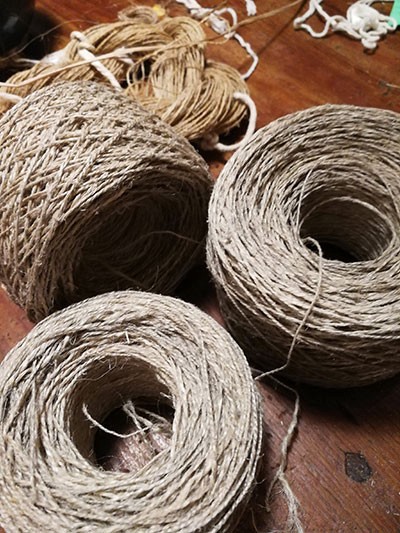 "I have ancestral roots that connect me to Ireland, Wales, Britain, Scotland, and Germany, all of which are places that nettle has a very strong history in clothing." Nettle, Kallis says, allows her to connect her own ancestral traditions with those of the Musqueam, Squamish, and Tsleil-Waututh peoples, upon whose unceded territory she lives and works. The Indigenous people of the BC coast used to make mats and fishing nets out of nettle: "There's a shared tradition that we have."
The tradition of weaving with nettle indeed spans many cultures. Kallis tells me she has learned that in ancient agrarian societies, enslaved people and the poor would clothe themselves with nettle, while landowners wore linen. Years ago, Kallis heard someone call nettle "the clothing of the landless." As someone who doesn't anticipate ever owning property, that term resonates with her.
In Vancouver, real estate is among the most expensive in Canada, and Kallis lives below the poverty line. Her work is funded through grants and small stipends from the province and the city, but those funds don't cover all her work hours. A production grant from the BC Arts Council covered only around 35–40% of the time she spent producing the nettle coat. Still, Kallis says she has an excellent life, which she attributes to social housing: She rents a small co-op apartment in the Downtown Eastside, often called Canada's poorest neighbourhood. That apartment is where she rode out the first pandemic winter weaving her coat.
An outsider might assume that weaving is a solitary process, but Kallis' practice is deeply rooted in community and collective discovery. She says that working with and learning from four Squamish women — Sesemiya-Tracy Williams, Meagan Innes, T'uy't'tanat-Cease Wyss, and Senaqwila Wyss — enabled her to reframe and deepen her relationship to plants in the first place.
When she works with nettle fibres today, she is drawing upon techniques she learned from two "textile skillholders" in her community — Penny Coupland and Karen Barnaby — as well as nettle weaver Allan Brown based in Brighton, UK. As part of EartHand Gleaners Society, Kallis' art nonprofit, she also runs conversation circles with people interested in the stories of their own ancestral textiles.
In August 2021, Kallis put the finishing touches on the coat. When we caught up several months later, she likened the feeling to completing a good book. "You have this moment of mourning," she says. "Of like, 'Now what?'" She's looking ahead to the next cloth she wants to weave and the next garment she wants to make — for her, there's so much left to explore. "Nettle Pants 2030," she jokes. In the meantime, the coat will be included in an exhibition called Plant Kingdom opening at the Dalhousie Art Gallery in Halifax, NS, this May.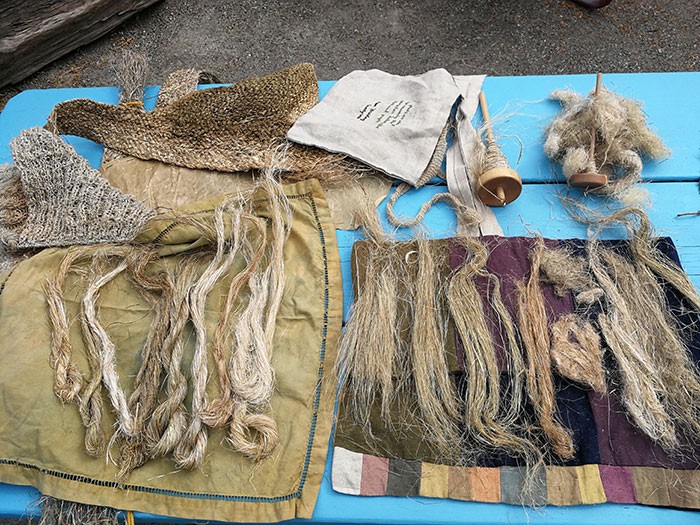 There is a disconnect between mass-produced fast fashion and the effort required to create a single garment from locally sourced materials; Kallis' process speaks to this. We often don't understand that effort because we don't know where our clothing comes from. Kallis tells me that she posted a picture of the unfinished coat in a Facebook group called Nettles for Textiles. A stranger messaged her to ask about commissions: how much would it cost for her to make them a similar garment? As she recounted this for me, she laughed. "It's like, trust me. You can't afford it."
Five years ago, Kallis was learning to grow and spin linen with local weaver Rebecca Graham. "I counted my hours of labor — just the spinning for linen would have put this skein of yarn at about $300 if I was paying myself a living wage. That wasn't taking into consideration Rebecca's time in growing the flax and processing it into strips ready for spinning, nor the value of the land that we were growing the flax on."
Kallis believes that once you start to unpack how labour-intensive it is to make clothing, you'll realize how much our wardrobes are "subsidized" by exploited workers. "We are so indebted to people living poor lives in order for us to clothe ourselves the way we do." That was true even before fast fashion: the history of cotton in the United States is intertwined with the history of slavery.
So weaving with nettle — which springs up from the roadsides, ditches, and wastelands of the Vancouver area — has brought Kallis to the roots of what we wear. "The story of Rumpelstiltskin and the farmer's daughter spinning straw into gold — that's the story of clothing," she tells me. "The gold is cloth."
Print Issue: Spring 2022
Print Title: Reclaiming the Clothing of the Landless
Related Stories
---
---