---
Can Recycling Solve Fashion's Ecological Crisis?
As clothes pile up in landfills, the fashion industry reckons with its environmental footprint.
Photo by Creole Sha via Flickr / CC BY 2.0
Is recycling the fix for fast fashion's infamous footprint?
Eileen Fisher's secondhand boutique in southeast Seattle doesn't look like a stereotypical thrift shop. Instead of making customers squeeze through crowded aisles and rummage through packed racks of clothes, Eileen Fisher Renew welcomes them with tidy displays and high ceilings. Along one wall, a dry cleaner's conveyor belt repurposed into a clothing rack presents garments organized by colour. In front of it, racks and tables feature mini-collections curated by manager Megan Arnaud. Everything is displayed as though it's brand new. Sometimes new customers don't even realize it's a secondhand store.
As the Seattle retail lead for Eileen Fisher RENEW — which takes back and recycles used Eileen Fisher garments — Arnaud is on a mission to destigmatize secondhand shopping. "We want to change the way people think about buying things that have been used before," she said. "Clothing is one of the most recyclable things we consume, and it is the least recycled of them all."
Around the world, people discard clothing at an alarming rate. The average North American, for example, throws away about 37 kg of clothes — or about half their body weight — every year. But less than 15% of it is recycled, according to the Environmental Protection Agency. Now, a growing number of brands, ranging from Patagonia to H&M, are taking back old clothing and figuring out how to deal with it in a sustainable way. In the process, they're promoting secondhand shopping and exploring new recycling techniques. They also want to convince their customers, as well as their competitors, that used clothes are a valuable resource, not junk.
Fashion, greenhouse gases, and trash
Clothing sales are rising rapidly — and, with them, clothing waste. More than 100 billion units of clothing were sold in 2015, up from 50 billion units in 2000. Much of the growth is driven by fast fashion, with retailers such as Asos, H&M, and Zara putting out more than a dozen collections a year. According to a 2017 report by the Ellen MacArthur Foundation, people discard most of these items after wearing them a handful of times, sometimes within a year. The result: mountains of garbage. Every second, the equivalent of one garbage truck of textiles is landfilled or burned.
It's trash with high environmental costs. In 2018, greenhouse gas emissions from the fashion industry amounted to 2.1 billion metric tonnes, or 4% of global emissions, making the fashion industry a major contributor to the climate crisis, according to McKinsey research. The process of creating clothes also contributes to other types of pollution. Dying clothes often releases toxic chemicals into water systems. Clothing production also drains freshwater resources. For example, it takes 2,700 litres of water to produce a single cotton T-shirt. That's equivalent to drinking water for one person for two-and-a-half years.
Part of the solution to the problem lies in your closet. Michael Stanley-Jones, co-secretary of the United Nations Alliance for Sustainable Fashion from 2018 to 2020, said that reusing and recycling old clothes can help reduce fashion's ecological footprint. In fact, he said, we will only be able to achieve the United Nations' Sustainable Development Goals — a set of environmental and social targets for the world to reach by 2030 — if the fashion industry transforms. "Reducing fashion waste would support achieving goals on sustainable water consumption, on lowering our carbon footprint, on fewer chemical inputs to agriculture. There's a whole range of ways fashion is linked to the 2030 agenda."
The rise of secondhand shopping
A growing number of companies, ranging from North Face to Levi's, have responded to the challenge by launching take-back programs that promise to reuse and recycle the textiles customers bring in. Diverse companies are also encouraging customers to use clothing for as long as possible. Both Patagonia, with its long history of promoting sustainability, and H&M, with its reputation for disposable fast fashion, run websites that give customers tips on how to care for and mend their clothes.
These aren't simply do-good projects: the fashion industry is responding to its customers' desires. In a 2020 McKinsey survey, 67% percent of consumers said they considered the use of sustainable materials when purchasing apparel. In addition, over half of Gen Z and Millennials look for items secondhand before purchasing them new, according to research commissioned by online thrift store thredUP.
Many take-back programs pass on reusable clothes to charity or secondhand markets in poor countries, where they end up in the trash if no one buys them. But some, including Patagonia, North Face, and Eileen Fisher, are cleaning up, mending, and reselling their own used products. In the process, they're grabbing a chunk of the growing secondhand market, which may outpace fast fashion within a decade, according to the 2019 State of Fashion report.
Recycling, upcycling, downcycling
Of course, not everything can be resold. Companies deal with some clothes that are beyond repair by turning them into new ones, a process called upcycling. One example is Patagonia's ReCrafted collection. Launched in 2019, it includes vests, bags, and T-shirts made from deconstructed clothes that are too worn for wear. Similarly, Eileen Fisher's Resewn Collection has featured cashmere sweaters constructed from patches of frayed ones, and flowy tunics made from damaged silk pants.
During a tour of Eileen Fisher's recycling warehouse in Seattle in September 2019, Lilah Horowitz, creative lead of Eileen Fisher RENEW, showed off a prototype of a wool coat made from remnants of four different coats. A few weeks later, it sold as part of a collection of sweaters and jackets that retailed for between US$398 and US$798. The collection challenged stereotypes about what constitutes valuable clothing, she said. "It can be high design and sit on this playing field with all these other designers, but it's all made from already worn and zeroed-out damaged clothes."
However, only a fraction of old clothes are upcycled in this way. Half of clothes donated to charity are either cut up into rags for industrial use or reprocessed into fibres for furniture stuffing, home insulation, carpet padding, and other uses. And even though H&M has gathered over 140,000 metric tonnes of used textiles since 2013, it has recycled less than 1% of those into new clothes. Between 35% and 45% of the clothes from its take-back program are shredded into fibres for products such as insulation.
This kind of recycling, sometimes called downcycling, creates lower-grade products that ultimately end up in a landfill. That's bad news for the environment. It's also a challenge for brands such as H&M and Eileen Fisher that have pledged to build a circular system in which clothes are continuously recycled to reduce demand on the planet's resources.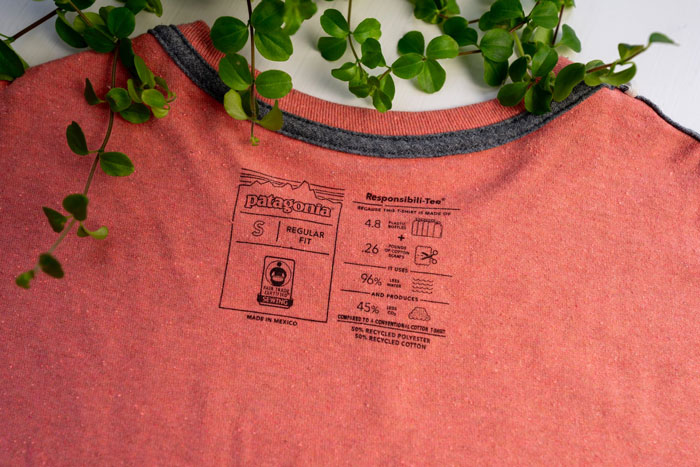 One major obstacle is a lack of technology for textile recycling. For instance, while Eileen Fisher has developed solutions for some of the clothes it receives that are too worn for wear—including a felting machine that turns scraps of fabrics such as cashmere into new textiles—the company still didn't have solutions for about 10% of them as of 2020. Instead, the company was stockpiling items in warehouses in Seattle and Irvington, NY, until it found ways to recycle them.
Even Patagonia, which began recycling soda bottles into fleeces in the early '90s and now makes 69% of its products from recycled materials, is not sure how all its clothes will be recycled.
One problem is that many clothes contain a mix of fibres that are difficult to separate. "When we think about the most common fabric on the planet, which is a polyester-cotton blend, those two things historically are incompatible with traditional recycling," said Matt Dwyer, head of product impact and innovation at Patagonia. "Part of the problem is: how do I get them back? You know, what's the infrastructure? There's no blue bin for my garment when I'm done with it. But, on the other hand, it's a technology problem."
Clothing recyclability can improve with more thoughtful design, said Cynthia Power, who directed Eileen Fisher RENEW from 2016 to 2021. Fashion companies need to design clothes "from the perspective of what can and can't be recycled, and to try to limit as much as possible the materials that can't be recycled," she said. For example, clothes made of 100% natural fibres such as cotton and wool are easier to handle than natural-synthetic blends.
The fact is, today's recycling projects — which take in just a fraction of the world's discarded clothes — are a long way from solving fashion's garbage crisis. Ultimately, the fashion industry may need to take a page out of Patagonia's book and work to sell fewer clothes. In 2011, Patagonia launched its Don't Buy This Jacket campaign with a full-page ad in the New York Times. It featured a Patagonia jacket that took 135 litres of water to make and generated about 9 kilograms of carbon dioxide in the process.
"The environmental cost of everything we make is astonishing," the ad said. "Don't buy what you don't need."
Related Stories
---
---