---
Apocalyptic Weather Made Me Climate-Conscious
This journalist's climate concerns increased when hurricanes in Atlantic Canada started feeling normal.
Leslie Amminson, 25, is a reporter born in St. John's, NL. Growing up, she spent much of her time immersed in nature and next to the ocean.
In 2019 Leslie moved from St. John's to Halifax, NS, to obtain a masters in journalism. Now, she works as a producer for CBC Radio. She lives with her partner, who is also a journalist. "When I feel most myself is when I feel like part of something," Leslie said. "Like I am part of a community, a common goal, or a mission." This first-person narrative was shared as part of the Climate Disaster Project. Details about the project follow this story.
---
When you're living by the ocean, you've been battered a lot. It's not unusual for us to get 100-kilometre-an-hour winds if we do have a storm. But it was a very odd 24 hours when we had Hurricane Igor in Newfoundland. It was 12 years ago, but people still remember it very vividly. It was apocalyptic.
I will never forget it because we lost our power for three or four days. We spent that night and the next day with the fire on just trying to stay warm and cozy. You can hear the rain. The wind just howls and howls so it's very eerie, and you could almost feel the house shake.
We had a big, big tree with a really thick trunk that had been in our garden forever. I remember my father looking out the window and seeing the roots coming up against the ground. The tree made the ground look like it was breathing. I remember my father looking out and being like, "Look at the ground. That tree is going to come up." Eventually it just toppled down on our neighbour's house and took down our neighbour's phone wires. You just knew that that was going to happen, but there's nothing you can do about it.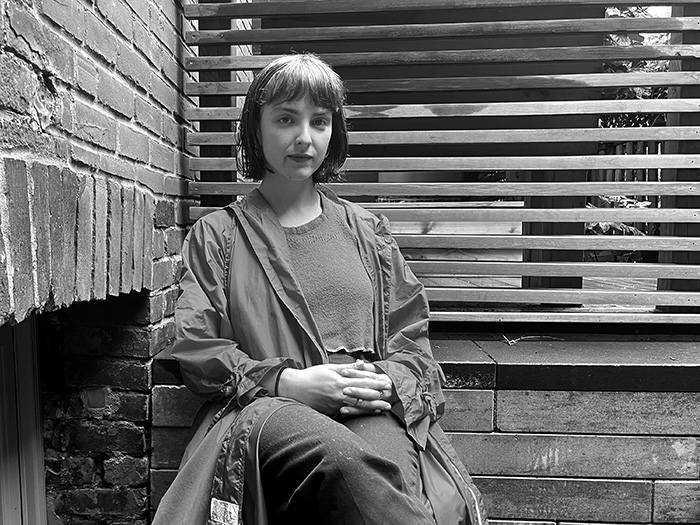 There were stories of people who had trampolines in their yard. The whole trampoline would come up and just bounce down the road. I knew one person whose greenhouse came up and flipped, then landed solidly on its feet again. And all of these huge old trees in the city toppled over. You'd be walking around the city and you'd just be seeing the base of the trees.
The cleanup was massive. Some of my family members work for the city so I do remember them working a tonne—that being a huge ordeal to go around with chainsaws and chop up all the old trees that came down.
We know that there are more hurricanes in this neck of the woods now because of climate change. The weekend I moved [to Halifax], I had been here for three days, and then we had a hurricane. It was Hurricane Dorian.
You wouldn't want to walk around outside because pretty heavy objects are blowing all over the place: trees, branches, and the news item that I remember most was the crane. There was a crane working downtown, and it collapsed because of the wind and fell on this building.
I actually remember having a lot of fun during this period. I didn't really know my roommates that well. It was an interesting time to just not go to school and spend a lot of time getting to know each other. We liked to play conversation games, and cards, and had our candles lit.
We were one of the last neighbourhoods to get power back, and that was pretty wild. I remember not being able to shower for a really long time. After a while, I was like, "Okay, I need some hot water, and to be able to cook."
---
You start to see these events that I think used to stand out as very memorable storms become a bit more like the norm. We get more tropical weather events than we used to. I don't remember that happening a lot in my childhood.
We try our best not to have too much waste in the house, and not to drive unnecessarily, and those things. Sometimes it feels a bit futile. If you get involved in activism, I really think that's the only way that things are going to change.
There's been a fair amount of climate strikes here. A lot of Indigenous-led and student-led climate protests, which was really heartening to see. You'd just be looking out, and seeing a tonne of people with signs; a lot of children, and teenagers, and young people.
I'm a pretty young person, but I definitely didn't grow up as engaged with climate change, and climate change activism. And I really hope that that means that things are different. The only way people just listen is when people make enough noise. I consider that a part of my role in the world as a reporter.
---
This story was created as part of the Climate Disaster Project. Based at the University of Victoria and led by faculty at 12 other post-secondary institutions, the project includes a virtual international class where journalism, social work, and writing students work with people who have lived through climate disasters to share those stories.
Before the students undertake that work, they share their own stories with one another. And now some of those stories are being shared with you, Asparagus readers. It's the beginning of a decades-long project to create the world's largest memory vault of climate experiences, where we will follow a perennial pattern of sharing stories, and finding the problems and solutions in them. Because stories create community, and community creates hope. Visit our Climate Disaster Project page to read more student narratives.
Print Issue: Summer/Fall 2022
Print Title: We're All in This Together
Related Stories
---
---