---
From the Climbing Wall to the Climate Barricades
A rock climber gives up competing to focus on climate activism.
Tosh Sherkat, 23, is a writer, student and climber who lives and studies on the traditional territory of the W̱SÁNEĆ peoples, which is now known as Victoria. He grew up on the shores of Kootenay Lake on traditional lands of the Sinixt, Syilx, and Ktunaxa nations in colonial Nelson—a small town with a history of logging.
Sherkat's father is a ski guide, and Tosh and his sister spent their childhood mountain biking, hiking, and climbing. Growing up, he felt he lived in a magical world. "My mom would read me The Hobbit. We'd go out into this little place we called Hobbiton and put a blanket down and lay on our back and look up into the sky."
But his relationship with that world was complicated by humans' impact on it. There would be clearcuts on the trails his family would bike on. They would drive up to ski hills behind logging trucks. And, in class, he'd be shown industry videos about the benefits of logging. "Just so many things about the adult world confused me."
As Tosh approached adulthood himself, he began competing as a rock climber. At 13, during his first year of competition, he qualified for the youth national team and set his sights on becoming the best climber in the country. This first-person narrative was shared as part of the Climate Disaster Project. Details about the project follow this story.
I homeschooled for middle school and a bit of elementary school. I had trouble fitting in in school settings. I was a really small child. I'm also born in December. I just remember going to kindergarten there were these really tall boys that were a year older than me, they just walked up to this girl and punched her right in the face. I was like, "Whoa, I don't want to be here at all. This is awful." So I got pulled out of kindergarten and went back the next year.
I was a little bit socially awkward. I also looked really different than a lot of people. There were two brown kids in the school, and I was one of them. Climbing seemed like a really safe space. All the misfits in town went to climb, and at the end of middle school, that gym closed. I experienced some pretty deep wandering. I just felt really lost and didn't really know what to do.
So, at the end of that first semester of school, my parents were like, "You are not in a good place. We need to get you to do something else." And in Central Saanich a school had just opened up its climbing academy program. So my mom, and my sister, and I moved down to Victoria. I qualified for the national team as an alternate. And then my goals sort of shifted. It was like, "Okay, I'm going to be the best climber in Canada. I'm going to win some World Cups."
And that was where I felt my life was going until very recently.
In the spring of 2020, when the Black Lives Matter movement had a lot of momentum, I started to think about Indigenous erasure, and the narratives of stewardship that climbers take on: that climbers take care of the land, that they're really respectful. Climbing requires you to be attentive to the rock. It requires you to perceive it as something that's speaking to you a little bit. In every other respect, we're just throwing bolts into the rock and crushing plants and throwing our pads down and scrubbing moss and being a nuisance. I started to think more about where [we] were positioned in terms of social and political hierarchy.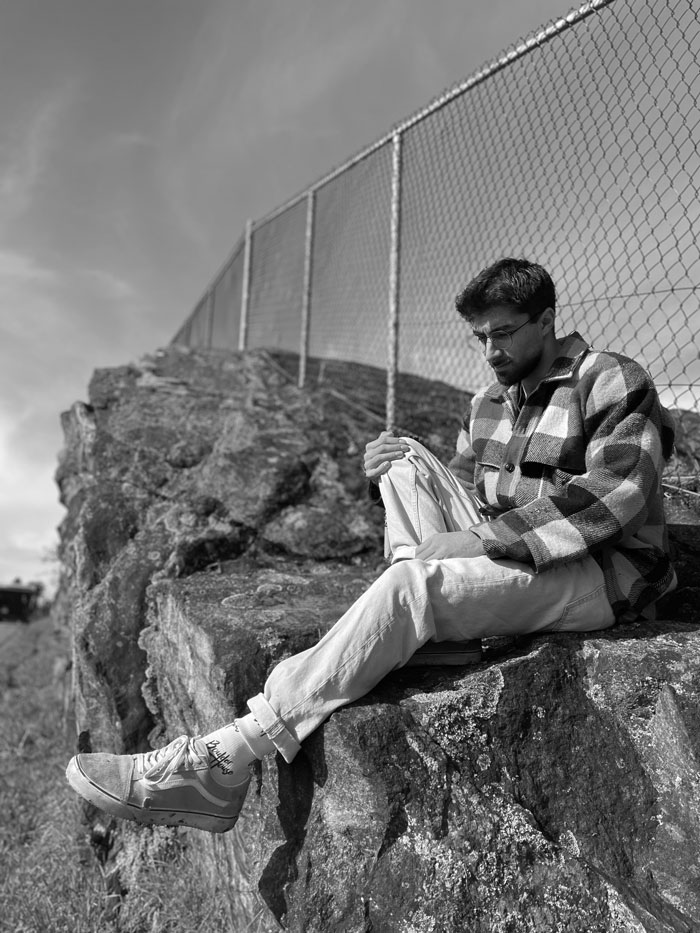 Fast forward to this last summer of 2021, I ended up at Fairy Creek. I remember waking up to banging pots and pans, "The police are coming. You need to get to the front line." We sat down and linked arms. When they started arresting us, the officer put his knee right next to my head and leaned over. I immediately fell away from this guy that I was holding on to. I heard his shoulder pop, and was like, "If that happens to me, I'm going to get kicked off the national team. That's not going to work."
I was aware, in that moment too, that Wet'suwet'en people were facing violence from the police. They're facing violence all the time; the front line is everywhere. They're putting their lives at risk, defending their lands at any cost. It came to me that my cost was climbing. I value this more than anything in the world, and that doesn't make sense. If there's a global food shortage, I don't get to train. If we don't have this world to live in, my goals don't even work.
A week later I was at a training camp for the National Team program, hanging out with friends whom I've known since I was 13 or 14. Almost every one of those friends at some point had "promised" to make some effort to fight for racial, climate, social justice. We were all at this training camp together and the only thing people were talking about was, "Oh, when are you going to go to Europe for this competition or that opportunity?" etc.
I realized that being a high-performance athlete didn't allow for any actual real change, because you had to be so committed to your goals that you would be willing to ignore what was going on around you. I realized right then that I didn't want that.
In October of 2021, I resigned from the Canadian national team, and wrote an article that was published in Gripped climbing magazine, calling out the high-performance sport world for being antithetical to climate action movements. I had a couple friends reach out to me and be like, Man, I've been thinking about a lot of the same things. I really appreciate you for doing that and taking that step. I think I'm going to follow you." And then there's a lot of people who said nothing: no texts, no messages. No saying at the gym, "Oh, wow, I read your article, this is what I think." Dead silence. There's a lot of people who don't agree, or don't really want to look at it, because it really challenges their narratives.
---
I want to support the people who are really at the front lines of the fight against climate change. There's just going to be so many deaths, and disasters, and people are going to be separated from their loved ones. In November, my grandfather passed away. It was at the time that the floods were happening so all the highways from the Interior were flooded or blocked by landslides. My mom and sister couldn't come. It was really hard. That's seemingly minor. But it really, really hurt my sister and mom to not be there.
What scares me the most is that there are people who either don't care or don't want to acknowledge it. And I'm like, "This is going to be it for you too—we're all in this thing." It is going to affect all of us. It scares me how little preparation has been made.
I don't think that what I've done has necessarily made the most change or necessarily is the thing that people need to do. But I do believe that we need to start setting up our lives to prepare for the moments where all of our systems that support our current lifestyles turn off. Am I going to have a fridge in five years? Am I not? Maybe 10 years? What does that look like? Because that really dictates how I live my life. That's just one thing. As soon as this world that we've built up on little castles of sand starts coming down, we're going to not have all those things. And if we do, it's going to come at the cost of millions of lives around the world.
---
This story was created as part of the Climate Disaster Project. Based at the University of Victoria and led by faculty at 12 other post-secondary institutions, the project includes a virtual international class where journalism, social work, and writing students work with people who have lived through climate disasters to share those stories.
Before the students undertake that work, they share their own stories with one another. And now some of those stories are being shared with you, Asparagus readers. It's the beginning of a decades-long project to create the world's largest memory vault of climate experiences, where we will follow a perennial pattern of sharing stories, and finding the problems and solutions in them. Because stories create community, and community creates hope. Visit our Climate Disaster Project page to read more student narratives.
Print Issue: Summer/Fall 2022
Print Title: We're All in this Together
Related Stories
---
---