---
Dignity Health's Environmental Evangelist
Second in a series examining efforts to make California health care more environmentally friendly.
Photo: Rawpixel
Dignity Health has worked with suppliers to eliminate toxins in medical supplies, like mercury in thermometers and PVC in IV bags.
In 1984, Sister Mary Ellen Leciejewski was working as a French teacher at a Michigan Catholic school, and figured her career path was set. But when she attended a weekend retreat that year, another sister's words about humans' impact on the environment changed her direction entirely. "[It] was very spiritual for me," Leciejewski says. "She kept saying, 'we're not put on the earth. We come from the earth.'"
Awakened by these words, Leciejewski started shifting her career focus to the environment. "I continued teaching," she says. "But I had the students talk about ecology in French."
Several years later, with her congregation's blessing, she studied ecology at the University of Illinois-Springfield. After she earned her master's degree, Catholic Healthcare West (now Dignity Health) recruited her to help build their sustainability program. "They said 'People are recycling. Hospitals are becoming more awake,'" says Leciejewski. Inspired, she moved to California and became an ecology programs coordinator. In 2017 she was named vice president of corporate responsibility, overseeing sustainability activities and shareholder advocacy.
Dignity Health — a San Francisco-based not-for-profit health system operating across 21 states — runs 39 hospitals. Each hospital has a sustainability program with a designated lead. At the system-wide level, Leciejewski facilitates best-practice sharing among hospitals, and embeds sustainability into the organization's culture and operations by partnering with teams ranging from corporate real estate to the executive team. "It's always, always a team effort," she says.
Awareness of the health-care industry's impact on the environment is growing. A 2016 study estimates that health-care-related pollutants in the U.S. cause an annual loss of healthy years of life roughly equivalent to mortality from preventable medical errors.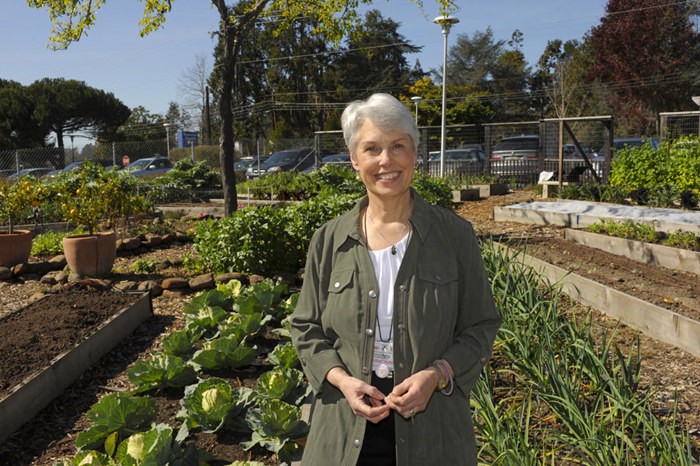 Leciejewski believes Dignity Health has a clear obligation to the environment as a health-care provider. "If our planet's not healthy, we're not healthy," she says.
The organization identifies kindness as the root of its healing mission, and an underlying principle in sustainability decisions. For example, after discovering that their electronic waste was going to countries lacking protections for workers exposed to toxic chemicals, Leciejewski says Dignity Health found a company that ensured electronic waste isn't sent overseas. "We're connected to that little boy in China who's sitting in a pile of toxic waste," she says, "Our motto is 'Hello humankindness,' not 'Hello American kindness.'"
---
Early in her tenure, Leciejewski built a sustainability infrastructure with Sister Susan Vickers, her now-retired predecessor, appointing a sustainability leader at each hospital. Then, as Leciejewski says, "We cut our teeth on waste. Paper was the easiest place to start." Following the adage "you can't manage what you don't measure," she built a spreadsheet to track waste, then asked all Dignity Health hospitals to send data. She smiles recounting hospitals' "friendly competition" in comparing performance.
Leciejewski says she and Vickers quickly learned they had to go beyond their own walls to maximize impact. With their supply chain team, they asked medical suppliers to remove toxic substances from products. By the mid-2000s, non-toxic alternatives had been sourced for supplies like thermometers, blood pressure devices, and IV bags.
Even as a large health system, Leciejewski says that finding affordable green products has been challenging. "Sometimes the business case is very clear. Other times it's not. We try, but we can't always buy the most environmentally friendly products," she says.
When the opportunity came to combine purchasing power with other health systems, Dignity Health raised their hand, co-founding Greenhealth Exchange in 2016 with three other health systems, and Health Care Without Harm, an advocacy organization promoting sustainable health care. According to Mary Starr, a Greenhealth Exchange executive, the consortium leverages the aggregated purchasing power of its members to negotiate competitive pricing for environmentally friendly items, starting with office supplies, flooring products and ceiling tiles.
---
Over the past few years, Dignity Health's environmental evangelism has expanded to publicly encouraging other organizations to join their efforts. As Leciejewski says, "Our voice can be louder as one." Dignity garnered industry attention in 2015 by divesting from thermal coal companies. The same year, they joined a multi-industry coalition advocating for SB 350, a California bill promoting clean energy and pollution reduction.
Rachelle Reyes Wenger, Dignity's director of public policy and community advocacy, says the organization was the sole health care voice at a press conference advocating for the bill. However, at a recent meeting on Capitol Hill to discuss climate change, Dignity was one of three health systems. "Other health systems are now working to lead in these efforts with us," says Wenger.
Following Dignity's recently announced merger with Catholic Health Initiatives, another national health system, Leciejewski is optimistic about the future. "We'll be bigger, and our voice will be louder," she says.
---
Next up in the series "A Greener Bill of Health," Sarah Kwon meets the San Diego-area hospital chef campaigning for sustainable seafood. Previously in the series: "UCSF's Dr Seema Gandhi Tackles Sleeper Pollutants in the Operating Room"
Related Stories
---
---