---
UCSF Doctor Tackles Sleeper Pollutants in the Operating Room
First in 3-part series "A Greener Bill of Health," examining efforts to make California health care more environmentally friendly.
Photo: Rawpixel
The US health-care industry produces nearly 10% of the country's carbon footprint; inhaled anesthetic gases are one of the lesser-known sources of those emissions.
It's not hard to spot sources of greenhouse gas emissions on a walk in San Francisco: gas-powered cars drive up hilly streets, ships burning bunker fuel chug across the bay to the Port of Oakland, and skyscrapers topped with tech logos speak of massive server farms whirring away in Silicon Valley. But there are other, less obvious, emission sources too.
Hospital operating rooms are home to more obscure greenhouse gases: inhaled anesthetics used to sedate patients for surgery and other medical procedures. The US health-care sector contributes nearly 10% of the country's carbon footprint, and these gases play a role. Moreover, they are also potentially damaging to the earth's ozone layer.
In 2014, Dr. Seema Gandhi — an associate clinical professor of anesthesiology at the University of California San Francisco (UCSF) Medical Center — discovered an opportunity for her colleagues to reduce unnecessary greenhouse gas emissions from inhaled anesthetics.
The most common inhaled anesthetics at UCSF are isoflurane, sevoflurane, and desflurane. According to Dr. Gandhi, desflurane is the most expensive, and has the largest carbon footprint. One study showed it has a global warming potential — a relative measure of how much heat a greenhouse gas traps in the atmosphere — that's two and a half times greater than isoflurane and ten times greater than sevoflurane. Gandhi says that while desflurane has shown benefit in obese patients, it has limited use in cases lasting more than two hours, and even then, the amount used should be moderated.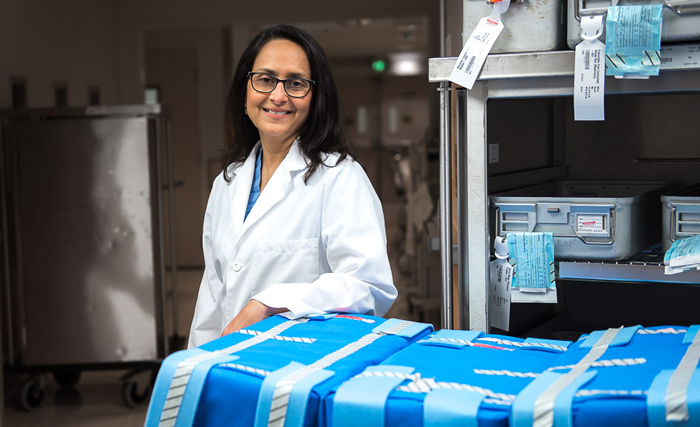 During one surgery a few years ago, she realized that desflurane was being used when another anesthetic could have been, and more was being used than necessary. "I couldn't understand. It frustrated me," she says.
To test if this was an isolated incident, she collected data for a week on her colleagues' fresh gas flows, the mix of medical gases and anesthetic agents that determines the volume of anesthetic used and released into the atmosphere. Her initial dataset showed higher-than-necessary fresh gas flows were used for all the inhaled anesthetics, a finding that was confirmed when she and Nicole Jackman, a research fellow funded by the University of California Carbon Neutrality Initiative, collected data from every case for a full year. They also built a model that projected cost savings with more optimal fresh gas flows for all the inhaled anesthetics.
In 2016, Gandhi started sharing the findings with colleagues at department-wide meetings. "They were all shocked to learn the differences in carbon footprint among the gases," she said.
Matt Caresky, a former resident, says her lectures were eye-opening. "Prior to her lecture, I wasn't aware of just how bad commonly used anesthetics are for the ozone layer," he says. But he also learned that environmental impact is still ultimately one of many factors anesthesiologists must consider. "There are potential considerations and risks in using very low fresh gas flows," he says. "You have to monitor patients appropriately and make changes as necessary for patient safety."
Gandhi's passion for reducing waste stems in part from her medical training in both England and India. She compares the use of electrocardiogram electrode pads in India and the US: "Here [in the US], you just put them on a patient, and if it doesn't work, you can get more and try again," she says. "But in India, we'd get a set amount […] for the day, and would have to plan carefully. You'd see a family without shoes who had to pay for these [pads]. It really made you be mindful about how many to use."
---
Raising awareness isn't enough for Gandhi. "I want to implement a system, so that if I ever leave, this would continue," she says. She's facilitating monthly reports on fresh gas flows for her colleagues so they can track their use, and is working with Gail Lee, director of sustainability at UCSF, to form a multi-disciplinary sustainability committee.
"Seema brings this to the level of an academic exercise, which is valuable to convince other doctors and administration that there is value in doing this," says Lee.
Gandhi's work caught UCSF leadership's attention. In 2017, she won a faculty award for sustainability projects she's led — including this one, and a push to reduce the disposal of single-use devices that were opened but then not used. The award hangs on a wall next to her desk, set in a frame made with recycled corrugated cardboard. Winning the award, she says, was tremendously gratifying, especially given the personal sacrifice required before anesthesiology department leaders and UCSF's chief operating officer provided her with more resources. "The hardest part of this was that a lot of the time I initially spent was my personal time, which took me away from my family," she says.
Gandhi isn't done yet. "I have so much more I want to get done," she says, her arms opening wide. "There's so much focus on 'recycle,' but I want to shift the paradigm to 'reduce.'"
---
Next up in the series "A Greener Bill of Health," Sarah Kwon profiles Sister Mary Ellen Leciejewski, Dignity Health's environmental evangelist.
Related Stories
---
---