---
Oona Clothing Finds Fashion in Textile Fragments
Indie designer Tina Ozols repurposes textile waste to make treasured, long-lasting fashion.
Leftover fabric scraps from industrial sewing operations and film productions. Textile factory surplus and fabric printed with discontinued patterns. Bundles of cloth handed down from someone's relative who has stopped sewing. Typically, these textiles would wind up in the landfill. But for East Vancouver designer Tina Ozols, they're the starting place for the garments she sells under her indie fashion label, Oona Clothing Company.
Oona is a one-woman show, and visitors to Ozols' Clark Drive studio are immediately immersed into a work space humming with her creativity, focus, and effort. A sewing area faces the street windows, while the adjacent open studio houses new designs displayed alongside tidy stacks of folded clothing, ready to label and ship. Racks of around 1,000 brown paper patterns hang from clothes hangers.
Ozols' path to design started early. "With dolls, I never actually got to them doing anything or talking to each other," she muses. "I always made sure that their outfits were right first. And when that was settled, I put them away."
Her skill is a gift from her grandmothers; both were seamstresses. Her paternal grandmother Alma was born in Latvia in 1920. Once in Canada, she worked at a factory in Toronto using machines to embroider swimming and Brownie badges until she retired. Maternal grandmother Mary, on the other hand, knitted "a million" items for family, made quilts and clothes for children and grandchildren, and also had a doll-making business.
"Just seeing someone making things with confidence—and not focusing on any one skill set—allowed me to feel a freedom to explore whatever creative endeavour caught my fancy," shares Ozols.
In 1999, she completed a three-year fashion design program at Fanshawe College in London, ON. When Ozols first started Oona in 2001, she was making anything she could out of very little. She made jewelry out of small things she had collected over time: beads, chains, pieces of hardware from her parents' garage. As she started out with almost no budget, one of the first things she made was a run of skirts that were sewn from yardage she assembled herself by weaving strips of scrap fabric together.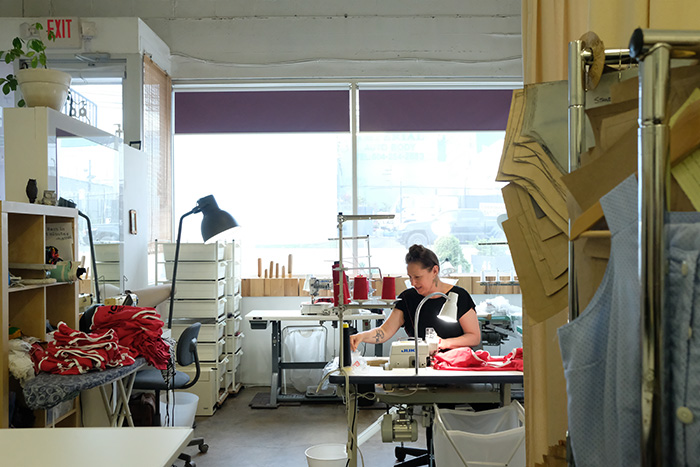 This creative problem-solving probably has something to do with how Ozols identifies: she introduces herself as a maker, rather than a "fashion designer." When she was younger, she cared about magazines and the designers in them. But now the word "fashion" is loaded for her, both because of its association with fast fashion, and how wasteful that entire industry can be. "I do appreciate the art of it," she says of high fashion. "I know that it has a place, but the actual industry itself gives me a lot of tough feelings."
Instead of buying into the fast-fashion model, she chooses "to be creative with existing materials—some I may not have chosen." And she puts energy into thinking about "how to prevent as much waste as I can, and think of ways to use it." Some of the ways she's come up with include creating what she calls "frankenfabrics" (yardage she stitches together from fabric scraps that would be otherwise too small to make anything out of), and repurposing thrown-out artists' canvas frames for making silkscreens. She has used karate belts, zippers, rope, and leather to make accessories like braided belts, toiletry bags, glasses and pencil cases, purses, and wallets. This year, she's challenged herself to use only what she already has in the studio.
One of those things in the studio is her very first serious sewing machine—and it's not just for decor. The 26-year-old Pfaff 6085 is still her go-to for some tasks, including sewing every single button hole. Old machines can be fixed, Ozols explains, whereas new ones are made with many plastic parts that can't be repaired. We're not taught to take care of things, she says, "because we can get another one or we already have 12 more. Unfortunately that allows us to devalue everything, which is really too bad."
Planned obsolescence in electronics parallels the way textiles are no longer made to last. Wool is no longer the quality it once was, says Ozols, but we can find vintage coats that last for years. "Being mindful of buying things that will last," she says, "can balance some of the other choices that we're forced to make."
Ozols makes sure that Oona articles are indeed made to last. "I still hear from folks who have had an Oona item for 10- or 15-plus years and—while faded and worn—[it] is still holding together," she says. "And it pleases me greatly!"
In addition to her interests in reducing waste and making garments that last, she's motivated to create clothing that fits as many bodies as possible. Her line of underwear for all bodies—which she calls "Unders"—has been a big hit. The underwear is generally made from all new fabric sourced locally, though she also makes "Heavy Metal Hot Pants" for which the fronts are made from upcycled heavy-metal or punk band t-shirts. She will also make custom Unders out of special t-shirts clients provide.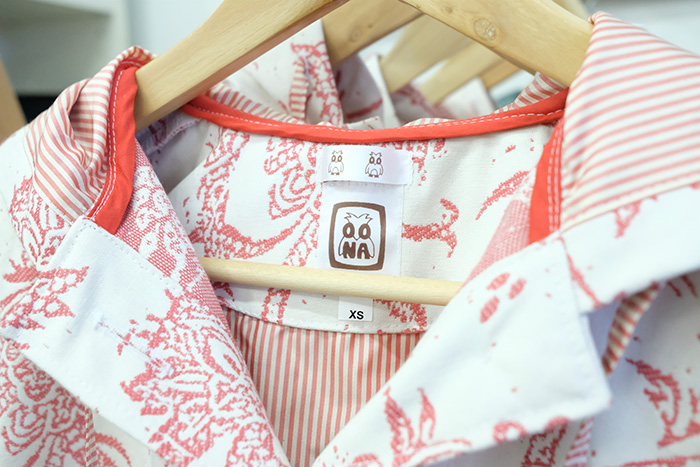 Custom underwear might sound like the ultimate luxury, but Ozols makes sure her undergarments are available to community members who can't afford extravagance. She explains that underwear is something that isn't donated enough for those in need. Or, if it is, the quality is often poor. So Ozols donates her products regularly to the Evelyne Saller Centre in Vancouver's Downtown Eastside, which provides support services to low-income and at-risk adults in that neighbourhood.
Regular prices for Unders range from C$16-40, depending on the style. But anyone can donate a pair for only C$5, and Ozols will add it to her next delivery. She also tops up the pile each time from her own stock. "Spending $5 for someone to feel that they are being treated with some dignity—instead of being asked to wear used or ill-fitting cheap underwear—is worth it to me!"
Print Issue: Summer/Fall 2022
Print Title: Not Rags, But Riches
Related Stories
---
---