---
Clean Beauty Standard?
Know Logo helps you navigate today's greenwashed marketplace, one logo at a time. Next up: EWG Verified.
Photo by Nicole De Khors via Burst
Clean beauty's popularity raises many questions. Are these products really better? Or is this term just another form of greenwashing at best, and scaremongering at worst? Enter Know Logo.
If you shop for makeup or skin care products — regardless of whether you keep up with new releases or still use products bought on sale two years ago (guilty!) — you have likely come across brands touting their "clean" offerings.
There is no official definition of "clean beauty." In general, products labeled this way replace potentially harmful synthetics with natural ingredients. These can be organic (produced without harmful pesticides), natural (sourced from nature and minimally modified), naturally derived (sourced from nature with some chemical modification), chemical-free (sans any synthetic chemicals), non-toxic (free of harmful chemicals like formaldehyde, lead, etc.), or green (produced in an environmentally friendly way). "Clean" can also refer to product packaging made with sustainable materials and methods. The implication is that "clean" products are better for us, and probably the planet too.
Clean beauty's popularity raises many questions. Are these products really better? Or is this term just another form of greenwashing at best, and scaremongering at worst?
"Clean beauty products are not necessarily safer or better than other products," Dr. Brad A. Brod, a clinical professor of dermatology at the University of Pennsylvania, told Asparagus via email. "[The phrase] gives consumers a false sense of security that a product with that label is safer than other products, and this is not based on evidence."
So, is there a way for consumers to verify that a brand and its products are truly less harmful than others? Enter the Environmental Working Group (EWG).
What is EWG and how is it funded?
EWG is a non-profit, American lobbying group founded in 1993 by lobbyists who wanted to reform US chemical safety and agricultural laws. It educates shoppers about potentially harmful chemicals in products they use — ranging from food, to household products, to cosmetics — and lobbies for policies that prohibit or suppress the use of these chemicals. In 2004, EWG launched the online database Skin Deep to educate the public about potentially harmful chemicals in their products, followed by the EWG Verified label in 2015.
According to EWG's 2020 annual report, the organization generated approximately US$13 million dollars in revenue. This included about US$4 million raised from foundations, and US$6 million from individual donations. Additionally, EWG earned US$2 million from licensing and consulting related to EWG Verified.
What is Skin Deep?
Skin Deep is an online database containing detailed information about the ingredients of over 60,000 cosmetic and personal-care products sold in the US, and potential human health hazards linked to their ingredients. Surprisingly for a group with "environmental" in the name, EWG doesn't explicitly concern itself with ecological harms.
The database gives each ingredient a data availability rating and a hazard or concern rating. The former refers to how much scientists know about an ingredient and its potential risks, while the latter refers to how hazardous it might be. Skin Deep gives products an overall rating based on a weighted average of its ingredients' scores. For example, 16 of an unscented Dove soap bar's 17 ingredients are rated low concern, while one is rated moderate concern, leading to an overall low-concern rating.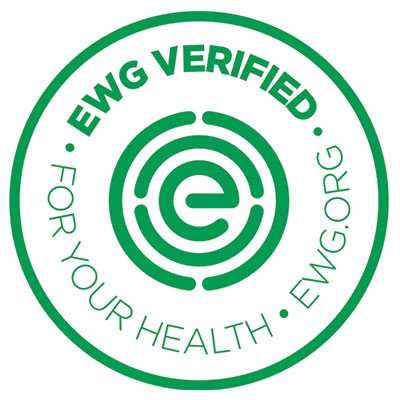 What is EWG Verified?
The EWG Verified mark on a product indicates that a company's formulations and manufacturing processes meet EWG's safety criteria. Currently, makeup and products for babies, hair, nails, oral hygiene, and skin can receive an EWG Verified label, though EWG is starting to include household products.
If a company wants an EWG label on a product, it must disclose all the product's ingredients, including fragrances and flavors. No certified product can contain any ingredients on EWG's unacceptable or restricted lists, and all personal-care products must attain Skin Deep's low-concern rating. EWG forbids all ingredients restricted by European regulators, who have stricter requirements than the US Food and Drug Administration (FDA). Products must also pass tests looking for potentially harmful microbes like E. coli.
The company also needs to follow the European Union's labeling guidelines for nanomaterials and ensure manufacturing practices in line with the FDA's guidelines — which include assessing the sustainability of buildings, facilities, equipment, and raw materials. They must commit to submitting reports on product problems or serious adverse events — such as disfigurement, hospitalization or death — to both the FDA and EWG, as well as abide by any future changes in EWG's unacceptable and restricted lists.
EWG charges companies a fee of US$250 to apply for the label. If an application is approved, the company must pay additional fees to use EWG Verified. Ranging from hundreds to thousands of dollars per year, fees vary depending on the company's size, and the number and sales of EWG Verified products, among other factors, according to EWG's website. Every three years, the company must seek recertification and pay a renewal fee to continue using the EWG verified logo on its product.
EWG is the sole body involved in verifying that a company is eligible for the logo and issuing the logo. Unlike all other eco-logos reviewed by Know Logo to date, EWG Verified does not depend on third-party certifiers or overseers to confirm that companies meet their standards. This lack of independent review could lead to conflict of interest: namely, EWG might certify products to collect certification fees, rather than because they've met a vigorous standard.
Consumers can buy EWG Verified products directly from brands' websites, or find them at retailers like Whole Foods, Target, and Bed, Bath, and Beyond, among others. Well-known brands with EWG Verified products include Revlon, Olay, Herbal Essences and Almay.
And is this a good thing?
EWG Verified seems like an easy way to verify if cosmetic and personal-care products are "clean." The label forces companies to be completely transparent about all the ingredients in their products — including fragrances and flavors, which companies often don't disclose since they're considered trade secrets. This makes it easy for consumers to spot potential hidden allergens.
However, a product's lack of an EWG Verified logo — or a high-concern rating on Skin Deep — doesn't necessarily mean it's unsafe. EWG's ratings of "toxic" materials and the data available about them is sometimes inaccurate.
Take formaldehyde. Skin Deep rates four chemicals that release formaldehyde — diazolidinyl urea, imidazolidinyl urea, DMDM hydantoin, quaternium-15 — with toxicity scores of 5, 5, 6, and 7 , respectively. (Scores are out of 10, where 1 means "low hazard"). The Skin Deep website also states that the latter two are either known to be, or similar to, "human toxicant[s]."
However, this toxicity depends on the amount included in cosmetic products. "Many safe products contain formaldehyde-releasing preservatives which release extremely low levels of formaldehyde well beneath the threshold for safety," explained UPenn's Brod. "Small amount[s] of formaldehyde are in our bodies as a metabolic byproduct."
Parabens are another ingredient demonized by EWG and the clean beauty industry at large. A 2019 article on EWG's website arguing against paraben-use in cosmetics states that "scientific studies suggest that parabens can disrupt hormones in the body and harm fertility and reproductive organs, affect birth outcomes, and increase the risk of cancer."
Brod explains, however, that there are hundreds of parabens, only a few of which are used in cosmetics. "The few used in the US personal-care products industry have been vetted and tested by experts and found to be safe and non-carcinogenic," he explained, pointing out that both the Cosmetic Ingredient Review and FDA have found parabens used in personal care products safe.
"Studies in rats and yeast cells have shown parabens to be thousands to millions of times weaker than estradiol, an endogenous sex hormone," says Brod about parabens' potential to disrupt hormones ("endogenous" means it's naturally produced within the body). "Given that women are exposed to much more potent natural estrogens, along with estrogens in oral contraceptive pills and even phytoestrogens in food, the extremely weak estrogenicity of parabens is unlikely to be meaningful."
Additionally, EWG's credibility has been tainted by its history of overstating chemical risks — such as its annual "dirty dozen" list of fruits and vegetables high in pesticides. The list's methodology does not "follow any established scientific procedures" according to a 2011 UC Davis study published in the Journal of Toxicology. The most recent version of EWG's annual sunscreen guide suggests that Vitamin A, a common ingredient in many sunscreens, may cause "cancerous tumors when used on skin exposed to sunlight," despite there being limited data to support this link.
Skin Deep also states that "companies are allowed to use almost any ingredient they wish without regard for how safe they are" since "the US government doesn't review the toxicity of products." Cosmetic products and ingredients in the US do not have to be approved by FDA to go to market; however, the FDA monitors cosmetic products and their ingredients and takes regulatory action against products "found to be in violation [of rules set by the Federal Food, Drug, and Cosmetic Act and the Fair Packaging and Labeling Act]," according to an email from FDA spokesperson Courtney Rhodes.
While motivating companies and governments to be more transparent about ingredients in cosmetics is beneficial to consumers, it's important to remember that a substance's toxicity often depends on its concentration. To encourage consumer distrust of substances that aren't necessarily toxic at the right concentrations risks crossing the line into fearmongering.
Buzzword summary
Encourages transparency, but overstates some risks. Not third-party certified, or concerned with eco-hazards (despite the name).
Related Stories
---
---