---
Mending the World, One Knee-Patch at a Time
How repairing my kids' clothes helped me get through this challenging year.
Photo courtesy Brianna Sharpe
Mending by the author's friend Jess: "This mend was just trying to get the rhythm of the stitching on the left leg, and trying to create a patch from scratch. I want my kids growing up knowing rainbows and all they stand for."
Last February, I invited a group of friends over to mend clothing and drink tea. While the snow fell outside, we gushed over thread colours, shared techniques, and admired one another's handiwork. I repurposed an old (unused) diaper liner into a patch for jeans. My friend Gisele showed us how to darn a wool sock, whisking us back to a slower time. Although the evening was more banter than backstitch, it turned fixing fabric into a chance for connection instead of a chore.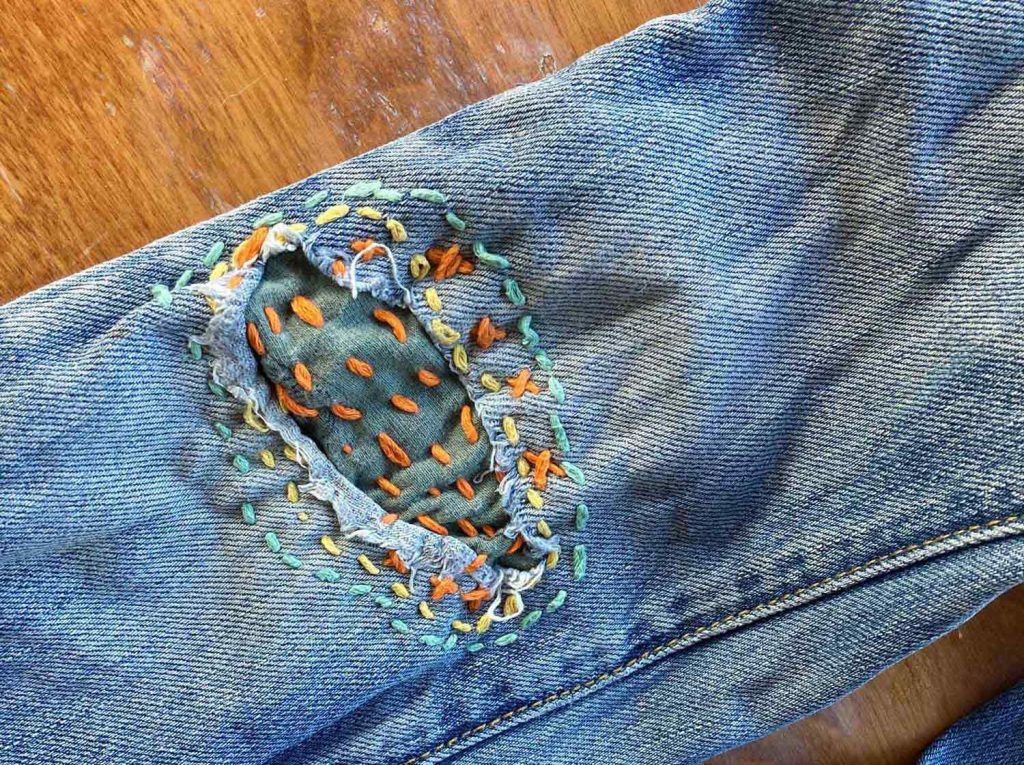 Our plan to meet again in March was ripped away like almost everything else that month. But the spirit of that gathering has stuck with me, beyond just being a symbol of the "before times." Although I can't mend in community, making colourful repairs to my kids' clothing has become a way to affirm my love for them and the world we live in. And more than that — it's a reminder that we can always create new stories using pieces of broken ones.
I'm not writing this piece as a mending expert; I don't have much technique, and nothing I've done is particularly Insta-worthy. But my stitches seem to hold, and are a way I resist both the monotony of stay-at-home parenting, and the lure of online pandemic shopping.
This September, five-year-old Little Grey Lamb started kindergarten. The tiny backpack we bought him last year wouldn't hold all the things he'd need for class, so I picked up a new-to-us one at our local gear exchange. It's sturdy but shabby, so I embroidered yellow stars to hide some tiny holes. Showing up on that first day, so many other kids had brand-new Avengers or Spider-Man packs. I momentarily felt bad. But not only has he never asked for such a bag, I know when he looks at those little stars, he remembers how I make things special for him by making special things for him.
Mending influencer Kate Sekules (yes, there is such a thing!) says "the opposite of hate is mending," which resonates with me. This small act conveys so much care for my family and the planet. As the pandemic pushes us indoors, it's also making us all reevaluate our commitment to "fast fashion" — and reaffirming our commitment to sweatpants. It's dismaying that Amazon founder Jeff Bezos has become US$74 billion richer through this time. But I think, increasingly, people are trying to reuse what we own instead of making people like him richer.
My friend Jess says her mending is aspirational: she dreams of living a handcrafted life, but her family's day-to-day means that fast fashion and quick fixes are realities. "Mending is kinda like my middle finger to [those realities]," she says. "If I can get clothes to last through both kids, at least it's something." When possible, she buys clothes from organic indie designers, and mending them when they're worn out helps justify the expense.
Like so many parents over the last seven months, I've spent 4000% more time with my kids than I ever thought I would. So much of it has been warm and wonderful. But while I think I'm a great part-time stay-at-home parent, I'm distinctly mediocre when I have to do it full time — so I've had to find ways to make this new life my own. There are always dishes in the sink, and I'm pitiful at keeping the living room tidy, but I've canned our jam for the year and mended my way through a small pile of worn-out knees.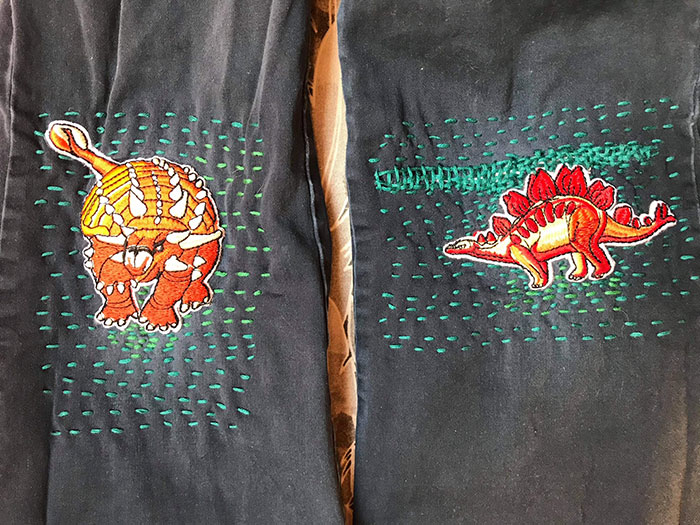 Similarly, my friend Gisele uses needle and thread to make her home-bound existence more enjoyable. "Mending got me through helping my kids with pandemic schooling at home," she says. "Anyone who has taught a kid to read knows what torture this is. Having something simple to do at the same time gave my hands something to do and helped me not go crazy."
As Kate Sekules pointed out in a recent episode of the vintage style podcast Pre-Loved, the history of mending is "not … very sexy." In conversation with the show's host, Emily Stochl, Sekules goes on to explain that across time and culture, clothes were often the most valuable and labour-intensive thing people would own. These days, of course, the opposite can also be true. Mending takes time and mental space, which are resources many can't justify spending when t-shirts are $5 at Walmart.
"[Mending] has got a sort of shameful history, of course, because mending in history speaks of poverty and deprivation, and even worse things," Sekules says. Perhaps in homage to that painful history, she is trying to politicize mending; she's created a series called "sewhername," in which she stitches the names of Black women who have died at the hands of the police onto pieces of clothing.
There are many cultural histories wound up in the act of fixing clothes, most notably the Japanese tradition of sashiko: that swoon-worthy white stitching over dark fabric. The fractal-like patterns are actually lines of running stitch carefully linked together. According to Atsushi Futatsuya — a sashiko educator who grew up surrounded by this centuries-old technique — it was created of necessity by Japanese families who couldn't afford new clothing or fabric. "Sashiko was developed for that purpose of surviving through the days, especially in winter: repairing, mending, stretching the fabric," he says. "It is the deep down history."
Even the iconic white thread on indigo fabric of sashiko reveals its history, says Futatsuya, as they were the cheapest and most available materials. The creative stitching would have been done by someone for whom speed was important and whose skill with a needle would make their fabric stronger.
Futatsuya is an ardent protector of what he calls "the Japaneseness" of this stitching practice. "If one starts not caring [about] the origin of its culture, then the culture may be repainted," he said in an interview earlier this year with Matador. "There are people behind the culture."
My little projects are not sashiko. In fact, Futatsuya is worried that sashiko culture is being "re-painted" by the new (non-Japanese) trend of visible mending. But through these varied histories, I'm reminded that needles and thread have long had the potential to write new stories: to give new life to a garment, to add strength in tough times, to show care in a bleak world. These days, we need to believe we can put something beautiful on top of something broken — not to erase the flaws, but to make the burden bearable.
Related Stories
---
---