---
Fashion is Hurting the Planet. Can We Tame the Monster in Our Closets?
Innovators worldwide are trying to slow down and clean up today's fast and dirty fashion industry.
Photo illlustration by Emily Cooper
When Katherine Soucie was a fashion student in the '90s, she found herself face-to-face with the dark side of her chosen field. By day she visited textile mills outside Toronto where masses of material were going to waste. By night she joined her then-boyfriend on the job for night-time trash-hauling trips to Michigan. "The smell of these massive graveyards — as I like to describe them — still haunts me to this day," says Soucie, 40. "I saw everything there you could possibly imagine."
"I made a declaration to myself when I was 18–19 that I would not contribute to this."
Now based in Vancouver, Soucie has her own textile and design company, Sans Soucie — whose name comes from the French expression for "worry free." True to her vow, Soucie isn't contributing to landfills full of clothing. Instead, she and her team transform textile waste into one-of-a-kind fabrics and garments.
Unfortunately, small operations like Soucie's can't solve the fashion industry's massive waste problem alone. Like the late-capitalist environment it operates in, the business of fashion runs fast and dirty. It's also huge. According to 2017's State of Fashion report — published annually by The Business of Fashion magazine and global consulting firm McKinsey & Company — if the US$2.4 trillion fashion industry were a country, it would have the world's seventh largest economy.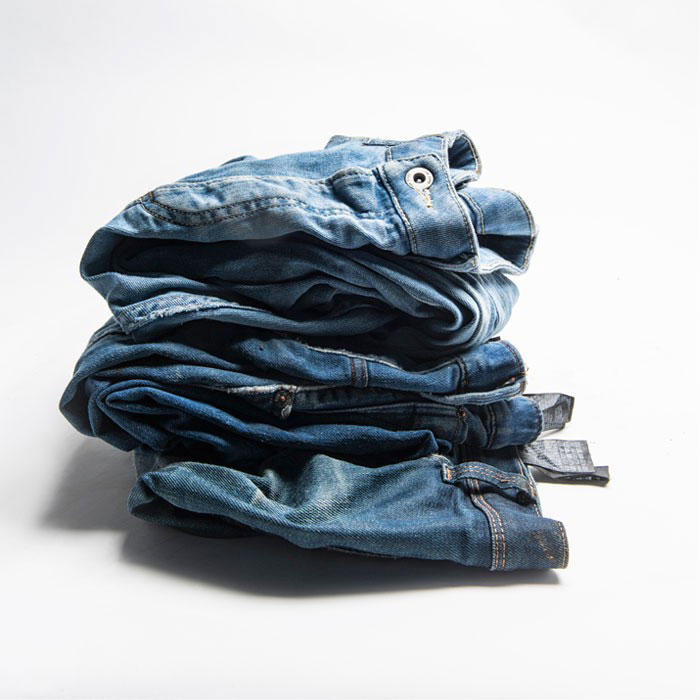 It's often claimed that apparel manufacturing is the dirtiest industry in the world after oil. While there's no solid evidence behind this claim, fashion is unquestionably doing a lot of environmental damage, using vast quantities of water, emitting greenhouse gases, and filling up our landfills. Here are some of the fashion industry's monstrous numbers:
These impacts aren't poised to go down. As more of the world's population finds its way into the middle class, global consumption is expected to increase; the 2019 State of Fashion report predicts worldwide clothing sales will grow five-fold by 2050.
In the face of global climate change and a growing garbage crisis, it's clear the fashion industry's impact needs to be mitigated, and fast. Business-as-usual thinking still dominates the sector, but changes are coming to the world of fashion thanks to efforts by independent producers like Soucie, shoppers' growing demand for secondhand clothes, and industry-level initiatives to clean up the supply chain.
Waste free, worry free
Soucie sees the impact of fast fashion not only on the environment, but on clothing design itself. "We no longer have the skillset to produce tailored garments," she says. "They take time. Mass production leaves no space for fitted garments." Fast-fashion brands do indeed operate at breakneck speeds — according to a 2017 report by market research firm Coresight, Zara usually puts out 20 collections a year, and H&M releases 16.
Meanwhile, Soucie is doing her best to slow her corner of the industry down, putting out only one collection annually. Her process starts with a shipment of textile waste, which she began sourcing from Montreal's Doris Hosiery Mill in 2007 (the mill was purchased by multinational Gildan in 2014). When the partnership began, Doris produced almost a thousand kilograms of waste per week, and Soucie still sounds flabbergasted at the figure more than a decade later.
Sans Soucie can only make a small dent in that volume: Every few months, they receive 40–100 kilograms of waste nylon hose. The scraps are first assessed by Soucie and her two employees, and sorted according to their structure, then dyed with non-toxic pigment until the water runs clear, so no residue is released into the environment. She speaks enthusiastically of this method's serendipitous results, in which the hosiery sometimes reacts differently than anticipated.
"I need to exhaust whatever is residual in the dye pot before adding new colour, giving me the opportunity to layer colour and produce some really unique things that cannot be duplicated," she says. After dyeing, the scraps are ready to be sewn into a patchwork, which she then uses to construct new designs.
As a result of this process, Soucie's clothes are rarely monochrome — most of her pieces have a marbled appearance, with stitches creating an abstract geometric look. The light texture of the nylon brings fluidity to her dresses, skirts, and other garments.
Seven years after Soucie started producing her own textiles, business owners in Vancouver began inquiring about the fabric she was making. Textile artists Kristen Chursinoff and Michelle Sirois, and jeweler Louise Perrone have all incorporated Soucie's remnants into their products.
"Not that I have ever undervalued the role of scrap," says Soucie, "but to see the ability and opportunity of something — where I have only used a fraction of the larger piece — to transform into something more, moves me every time. A community has been built of this waste-material resource that I value, and now they value. And it allows for the story to continue a bit further."
Riding a clean wave
On the opposite side of the globe, a pair of entrepreneurs in South Africa are also embracing the potential of "waste." Cape Town's Sealand Gear — founded by avid surfers Mike Schlebach and Jasper Eales — uses waste material from yacht sails, billboard ads, and tents to create a line of hip but practical bags, apparel, and accessories.
Managing director Schlebach and product designer Eales launched Sealand in 2015 as an extension of their outdoorsy and environmentally friendly lifestyles. They wanted to create products they could use both on camping and surf trips, and at home in the city. In April 2019 — after three years of selling online and through select shops in South Africa — they opened their first store in downtown Cape Town.
The location has a "Concept Room" where shoppers can choose materials to customize their own "Toastie," the name Sealand gives its line of pouches. The experience helps customers learn more about Sealand's upcycling process and the waste materials they work with. Another way the company raises awareness among its clientele is by stamping each product with the signature of the staffer who made it, giving credit and attention to the employees whose work would be anonymous at most other fashion brands.
Operating on a larger scale than Sans Soucie, Sealand upcycles around 20 tonnes of yacht sails and billboard ads every year. They buy waste material from sail and tent factories, and also swap products with local yacht clubs and sailors in exchange for old sails.
For the status quo to change, Schlebach, 41, believes the onus is on both manufacturers and individuals. "Consumers have to slow their consumption habits down and invest in better quality things," he says. "We create durable goods so they last a long time. It may seem like bad business sense, because then people won't come back… But at least we're selling them something that didn't hurt the environment on the way."
Everything old is new again
Mahima Gujral founded New Delhi-based eco-brand Sui. Her company produces apparel and accessories made exclusively from ethically produced hemp and organic cotton. Taking inspiration from her world travels, Gujral, 29, designs garments tailored enough to flatter, yet flowy enough for comfort. Sui generally manufactures only one piece per size, and mostly make to order, to avoid unsold inventory.
"A lot of people want to make the change," says Gujral, "but sustainable fashion can also come with a price tag." She's right. The process of transforming waste materials into new goods or sourcing ethical materials often results in high prices, putting products like Sealand's, Sui's, and Sans Soucie's out of reach for many shoppers.
Sui recently launched an under-$100 range to make their products more accessible, a process Gujral found challenging. "It's hard to keep prices low when you're trying to buy the right fabric and pay people the right salaries," she says.
However, small-scale eco-fashion operations aren't the only sustainable game in town. The less labour-intensive process of helping old clothes find new homes is a booming business. According to a report by market research firm GlobalData, the secondhand clothing market isn't just growing, it's threatening high street stores. In 2018, the US secondhand market was worth $24 billion, with fast fashion valued at $35 billion. By 2028, GlobalData predicts the thrift business will grow to $64 billion, while fast fashion is forecast to reach only $44 billion.
The Toronto thrift store Black Market first opened its doors in 1998, initially selling T-shirts for punk bands. Over the years, most of their mom and pop neighbours on Queen Street West have been replaced by mass brands like Gap, Zara, and H&M, but Black Market has survived two decades by offering vintage clothing at reasonable prices.
Tracey Opperman, one of the store's founders, thinks it's up to the consumer's "whim" to change the garment industry: "We're all catering to a supply and demand. If consumers demand cheap clothes, then they will get cheap clothes. But if they start demanding sustainably made clothes, then producers will have to pull up their socks."
The Rana Plaza disaster in 2013 was the most fatal garment-factory accident in history, and is an important recent example of consumers demanding — and getting — some systemic change from the fashion industry. Collective outrage over the deaths of more than 1,000 Bangladeshi workers became the impetus for improving transparency in fashion supply chains.
After the incident, 220 brands with factories in Bangladesh signed the Accord on Fire and Building Safety, which focused on the structural safety of buildings and ensured workers' rights to refuse work in an unsafe environment. The agreement expired in 2018, however, and to date 193 companies have signed on to its three-year extension. So the momentum seems to be holding, if slightly diminished.
If Opperman is right and the power is in consumers' hands, the question is: what will it take before the public demands environmentally ethical and sustainable practices from top fashion brands? And how can we ensure lasting change in the industry, rather than superficial and temporary shifts?
Go big, or…?
Businesses like Sans Soucie, Sealand, and Sui might be walking the talk, but small enterprises like theirs can't turn the tide for the entire industry. "Small brands do have the power to make a difference," says Sui's Gujral. "But at the end of the day, it's the big ones that really need to change."
In the apparel business, it doesn't get much bigger than H&M. And the Swedish fast-fashion giant has recently become enthusiastic about recycling and reusing textiles. Projected behind the cashiers at one of their Toronto locations is the exhortation: "Be a fashion recycler." The finer print underneath tells customers to bring in old clothes so the retailer can "give them a new life."
This initiative hasn't gone without criticism, though. The CBC program Marketplace did an investigation into clothing recycling, and learned from iCollect — the company handling H&M's Canadian donations — that only about 35% of what they pick up gets recycled. And not into new clothes, but as "products like carpet padding, painters' cloths or insulation."
Interviewed by Marketplace, Elizabeth Cline — author of Overdressed: The Shockingly High Cost of Cheap Fashion — criticized the recycling program as "an easy sustainability win," because it allows H&M to project itself as a sustainable organization without rethinking its linear production model.
According to its sustainability report, H&M collected 17,771 metric tonnes of textiles worldwide in 2017 — equivalent to 89 million T-shirts. By 2018, though, only 1.4% of the material used to make H&M clothes was from recycled textiles. The corporation has promised that 100% of its products will be made from recycled or sustainably sourced materials by 2030.
Soucie believes that even switching to "sustainably sourced" non-recycled materials isn't enough of a change, though. "If we were to stop manufacturing textiles now," she says, "we have more than enough to carry us for quite a few centuries."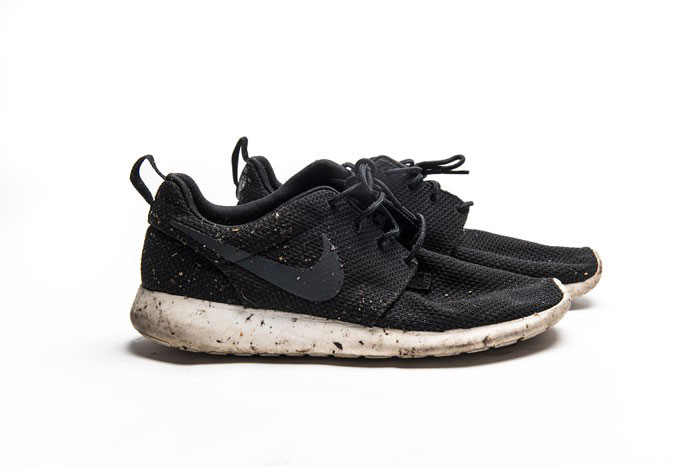 Over and above the clothes consumers purchase, mass manufacturers are also responsible for billions of dollars worth of unsold inventory. In 2017, luxury brand Burberry burned £28.6 million worth of unsold apparel, accessories, and perfumes rather than reduce prices, donate the remaindered inventory, or make it available for reuse or recycling. When this fact was revealed last year, public outcry caused the company to abandon the practice. In 2018, H&M was left with $4.3 billion dollars of unsold clothing and accessories, but said it would try and steadily reduce that volume through sales.
To radically reduce the amount of waste it produces, the fashion industry needs to switch from a linear "take-make-dispose" model to a circular economy in which waste materials and used items find their way back into production instead of the landfill. At some point, Sui started making headbands, earrings, diary covers, and tablecloths with leftover fabric. Sans Soucie and Sealand take a similar zero-waste approach.
While no major clothing companies seem to be moving in this direction yet, a global consumer brand in another sector is adopting strategies that could be emulated by fashion players. IKEA — the world's largest furniture retailer — has committed to becoming a completely circular business by 2030.
In 2018, IKEA launched sell-back programs in a number of countries, including Australia, Japan, and Canada. According to an IKEA Canada spokesperson, the country's program received 17,000 applications in its first six months. The Canadian scheme allows consumers to return items in working condition in exchange for store credit, by submitting photos online of the furniture they want to sell back. IKEA then resells these used items at a discounted price.
This year, IKEA decided to disrupt its model further by launching a furniture rental program that will be introduced worldwide by 2020, with pilots currently underway in Sweden, Switzerland, Poland, and the Netherlands.
Some companies in the fashion sector are taking similar steps. Outdoor brands including Patagonia, REI, and The North Face accept returns of used and damaged products, refurbish them, and then resell them at a discount. And though it isn't a sell-back policy, Levi's recently announced a 20% discount to shoppers who bring in old denim for recycling. New York-based Rent the Runway has offered designer duds for hire for almost a decade, but no major fashion manufacturers have attempted this model for their own wares.
There are efforts underway within the fashion industry to mainstream reusing, recycling, and upcycling programs. Launched in 2010, the Ellen MacArthur Foundation works to help industry and society transition to circular systems. In 2017, the foundation launched the Make Fashion Circular project in partnership with brands including Burberry and H&M, providing a platform for collaboration, research, and innovation within the apparel industry.
The initiative aims to create a fashion industry that benefits the environment, business, and consumers by adopting the following principles: reducing the amount of water, power and other natural resources used in production; phasing out polluting materials in textiles; keeping clothing in use (through programs like sell-back and rental); and massively improving recycling.
While it tackles the hard, slow process of system-change, Make Fashion Circular is simultaneously trying to raise public awareness with short-term campaigns. In March, the initiative launched the #WearNext campaign in New York, to keep clothes out of landfills. Over 1,100 collection boxes were set up around the city for people to drop off used clothes over a three-month period. The garments will be given a "new life" by the project's reseller and recycler partners.
Working together to tame the beast
That kind of awareness-raising isn't just about publicity, it's a necessary part of changing the system. "Movements don't happen in silence," says Soucie.
Small players like those profiled in this article can set the example, but change needs to come at the top, from the 20 companies that make 97% of the apparel industry's profits, a club that includes fast-fashion companies H&M, Uniqlo, and Zara, sports giants Nike and Adidas, luxury brands LVMH, Hermès, and Burberry, and mainstream clothiers Gap and Ross.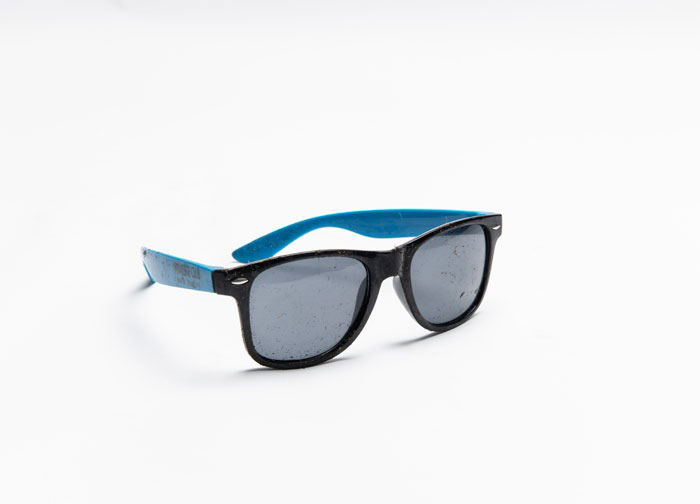 Ultimately, Soucie sees collaboration between large and small players as the industry's way forward. "Businesses can collaborate together, because not all businesses can function independently and produce circularly. I am collaborating with a big manufacturer," she points out. "More collaboration is the future of the industry."
And what does the future look like for the upcycling method she's developed over her career? "When I started doing this, I didn't think I'd be doing this 15 years later," she muses. "But I am hoping that I won't be doing this for the rest of my life, because I hope less waste will be produced in the future."
Print Issue: Summer/Fall 2019
Print Title: Taming the Monster in Your Closet
Related Stories
---
---