---
Wool is the Soil-to-Soil Fashion Solution We've Had All Along
For my family, buying wool clothing is a tiny rebellion against fast fashion.
Photo by Brianna Sharpe
Mini Ewe meets real-live ewes at Providence Lane Homestead near Cochrane, AB.
When 3-year-old Jude Leyton of Kingston, ON, was found in the woods last spring after three days lost and alone, the constables on his case were shocked he was alright — and credited his wool sweater for keeping him warm. When Leyton's parents put that sweater on, they likely had no idea it would save his life.
I'm not saying we should dress our children in sweaters every day lest the unthinkable happen. But this story reminds us that wool is a radical textile hidden in plain sight. Particularly as we search for alternatives to oil-based-polymer clothing made in exploitative factories — wool just might be the soil-to-soil solution for so many of our woes.
Wool is truly a wonder-fibre. Wool's air pockets can help us regulate our body temperature. Its elasticity makes it ideal for long-lasting, well-fitting clothing. Wool can absorb up to one-third of its weight in water without feeling damp. It is naturally fire retardant (as you may remember from my article about mattresses). Because wool doesn't wrinkle, nor does it like being washed and dried, tired parents do even less laundry. I have literally never washed most of my kids' sweaters.
The Vikings' sails and overclothes were likely made of wool; it's difficult to say for sure, as these organic materials have long since biodegraded, a testimony to wool's eco-footprint. The mythical Amazon warrior women are depicted as wearing felted wool garments in battle. Women resisting German occupation in both WWI and WWII stitched coded messages in their knitting patterns.
Parents scouring Facebook Marketplace for vintage cable knits are a far cry from these epic histories. Particularly because wool-coveting is often accompanied by worry about the cost. A responsibly sourced Merino base layer set from Canadian company Wee Woolies costs about US$70 — that's almost half of our weekly grocery bill. A pair of Smart Wool socks is about US$13, or three dinners' worth of proteins. Even though I know wool's qualities make it invaluable, that's still a lot.
But I feel like wearing ethically sourced wool is a teeny, tiny act of rebellion against the fast-fashion petrostate. So I scour buy-and-sell groups; if I'm lucky I can find a base layer set for US$20 and a set of four pairs of pre-loved socks for US$12. But thrifting takes mental bandwidth and time, and still isn't free. All hail hand-me-downs and friends who know the value of circulating our sacred wool items.
---
People who know me are likely chuckling by this point (in a mockingly exasperated way, if they're my husband). At the end of last year, I started needle felting, which is the art of stabbing a very poky needle into loose wool until it becomes a solid sculpture. I just love the way that wool's tiny fibres weave together with friction and force to create something magical. Since then I've become deeply enamoured with all things sheep and sheep adjacent. I knew I was in a special place when I started watching Outlander to ogle the wool, not the humans wearing it.
For thousands of years, humans made nature into clothing — silk, wool, cotton, flax — knowing each step like the backs of our very tired hands. Of course, the need for textiles would also cause enslavement, wars, and colonization. But over the last century, humans have discovered increasingly toxic ways to make textiles faster and cheaper: from chemicals (a recent study found toddler clothing from online retailer Shein contained 20 times the safe limit of lead), to pesticides (in the early 1970s, 80% of US-produced DDT was used on cotton crops), to oil-based textiles (about 60% of material made into clothing worldwide is plastic, according to the United Nations Environment Program).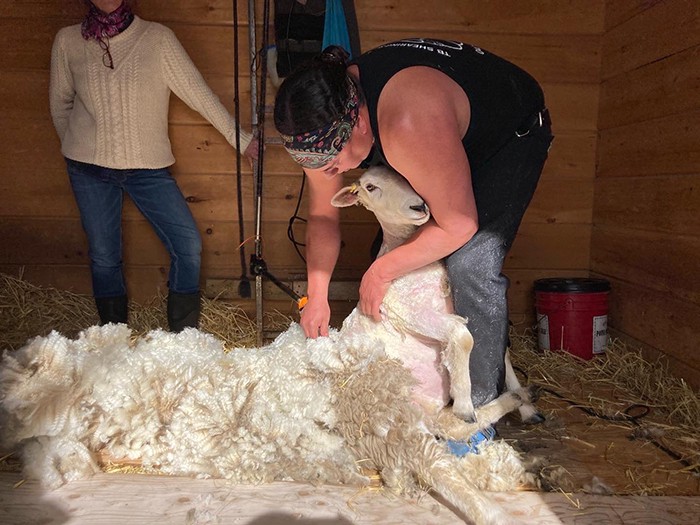 Author and farmer Rebecca Burgess is the executive director of the American non-profit organization Fibershed. In her 2021 book of the same name, Burgess warns that "we have been blindly wearing carcinogens, neurotoxins, and endocrine disruptors on the biggest organ of our body — how crazy is that?" Burgess believes that, like we did with tobacco and DDT, we'll realize too late what we've done to our bodies and our ecosystems.
Burgess is passionate about "fibresheds": regional textile networks of local farmers, spinners, weavers, designers, dyers, and creators. These fibresheds are focused "on the source of the raw material, the transparency with which it is converted into clothing, and the connectivity of all the parts." Soil to skin, back to soil again. Of course, Indigenous peoples around the world and through time have been deeply connected with their fibresheds, but without this name attached. Nonetheless, I like how the word "fibreshed" links into our notions of watershed and foodshed.
---
When considering expanding my family's wool wardrobe, I was briefly lured by flashy companies. I considered Wool&'s dress challenge, in which customers get a US$100 gift certificate for wearing a Wool& merino dress every day for 100 days and document each outfit. I'm proud to say I paused before hitting "buy now" on any of their dresses, which cost between US$128–188.
Although the company motto is "Live simply. Consume carefully. Do good," what specifically are they doing to support those principles? In some cases, they say, Australian wool is shipped to China for processing, and then to Portland, OR, for retail. Even if I accepted this dress would cross oceans, I'd want to know about their farm standards. By late 2024, they aim to phase out mulesing (painful skin removal to prevent parasites), but that's a basic no-brainer. I'd want to see way more that's in line with the Responsible Wool Standard, for example.
Large companies that walk the talk when it comes to responsible wool are rare. But it isn't hard to source felting and weaving fibres close to home, as Alberta has the second highest number of sheep in Canada, with almost a fifth of the country's sheep in total. We have one of Canada's few large mills, which are also among the last North American mills to perform every step of the process themselves, from super-dirty raw fleece to finished yarn and roving (carded and combed fibres that have not yet been spun). They source their wool with integrity from Western Canadian producers adhering to ethical standards. Their dyes are minimal-impact, and they even boast a line of naturally dyed yarn.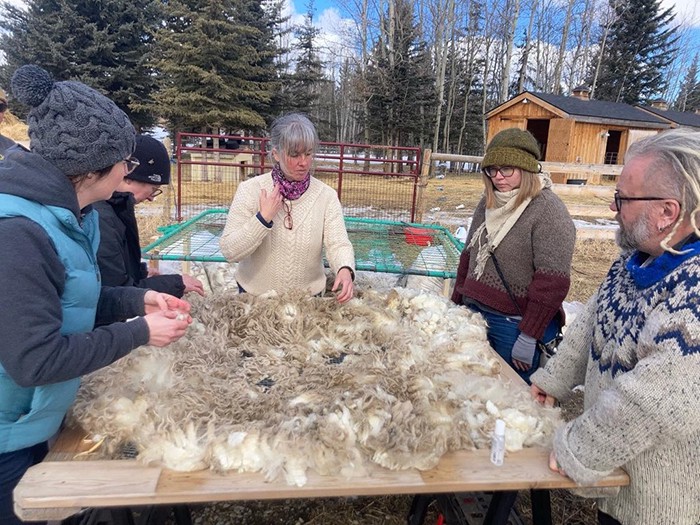 Keeping with the idea of exploring my fibreshed, I drove 20 minutes to spend a morning with Tara Klager, the writer, shepherd, and farmer behind Providence Lane Homestead. My 4-year-old human, Mini Ewe, and I watched the "flerd" (flock/herd of sheep and alpaca) go about their happy daily routines. Many of Klager's sheep even follow her around, not because they are mindlessly obedient—as the ridiculous phrase "sheeple" implies—but because, as Klager points out, they are excellent judges of character, and she is their person.
Providence Lane is grounded in regenerative agriculture, a beautiful term with no universally accepted definition. It incorporates permaculture, biodynamics, the water cycle, rotational grazing, and so much more, as I've written about elsewhere. Sheep, it turns out, can actually revitalize our essential native grasslands and play a key role in rebalancing the ecosystem when raised in line with regenerative agriculture.
Klager wants people (you?) to contact local farms, go for a visit, and ask good questions about whether their practices match your values. How does your farm help heal the land? What specific regenerative strategies do you use, if any? Tell me about your sheep care; what makes a healthy, happy animal in your mind? What specific animal care standards do you meet or exceed? Klager is proud to be animal-welfare certified by A Greener World, for example.
To Klager, regenerative agriculture is about restoring balance to the land through technical expertise and exceptional animal care. "Where I'm standing is as much of an actor as I am. The land isn't a canvas I can impose my vision upon. It's a stage with a full cast and crew and I'm one more player, just the latest in millennia." Regenerative agriculture is "a good way to reconcile the future with the past, science with storytelling, legacy with inspiration, settler with Indigenous, and humanity with the natural world we've worked so hard to subdue."
---
Klager is able to make this beautiful vision a reality. But she knows too well that wool is hugely devalued on the world market. Seventy-five years ago, she said, wool was a hot commodity and Canada was on the leading edge. But in the era of fast fashion and synthetics, some shepherds are forced to destroy their fleece because it's not worth the time and money to process. But some, like Klager, are taking it to woollen mills, spinning it themselves, and hand-dyeing it for personal use or to sell. In fact, I recently helped on a sheep-shearing day, and came away with floofy raw fleece to clean, card, and spin or felt.
I just bought a pair of locally hand-dyed indigo wool socks from The General Bean, which I'm quite excited about. I like picking up locally made woollen goods like these, but for more substantial pieces, I have to go farther afield. I've been lucky enough to buy some key pieces from lovely Canadian companies like Anian, whose wool is post-consumer recycled. I regularly check the Patagonia sales for myself, and Wee Woolies for the kids, as they both make efforts to ensure ethical, sustainable sourcing (though much of their wool is from New Zealand).
I don't buy these items often and so many can't afford them at all. So until more local-ish wool options are produced at a scale large enough to be affordable (which I believe is possible with enough consumer demand and fibreshed advocacy) I'm happy thrifting and getting hand-me-downs, felting the kids some not-plastic toys, and knitting the occasional small piece.
I bought a skein of yarn Klager spun, made with adorable Shelby and M'lynn's fleece; I'm making Mini Ewe a headband to keep her hair out of her eyes at ballet class. It's a minuscule action, but every stitch puts a tiny, rebellious smile on my face.
Print Issue: Spring 2022
Print Title: The Revolution Will Be Woollen
Related Stories
---
---